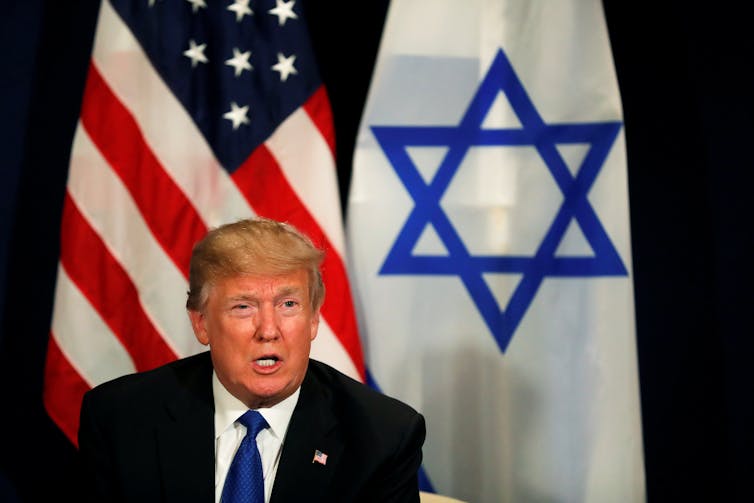 Adrian Beaumont, University of Melbourne
On January 20, 2018, exactly one year after Donald Trump was inaugurated as president, the US government entered a partial shutdown for three days – the first shutdown since 2013. This is the second shutdown that has occurred when the same party controlled the presidency and both chambers of Congress; one agency was shut down for one day in 1980.
While Republicans hold a 51-49 majority in the Senate, it usually takes three-fifths of the Senate (60 votes) to invoke cloture and prevent filibustering of legislation. In the House of Representatives, Republicans have a 238-193 majority, and a bill that funded the government passed 230-197.
In the Senate, the same bill won the vote 50-49, but was short of the 60 votes needed for cloture. Five Democrats, all representing states Trump won by at least 18 points in 2016, voted in favour of this bill, and five Republicans voted against, though Senate Majority Leader Mitch McConnell's "no" vote was technical, to allow him to reintroduce the same bill.
The reason Democrats denied supply was a dispute over "Dreamers" – children who came to the US illegally. Under President Barack Obama, the approximately 800,000 Dreamers were eligible for renewable two-year non-deportation periods, and work permits. Trump rescinded this program in September 2017, but Congress was given until March 2018 to legislate an alternative.
Four months since Trump's rescission, no legislation on Dreamers has been voted on by either chamber. On January 11, Trump reportedly said "shithole countries" in reference to immigrants from Haiti and some African countries. Democrats clearly believe Trump and Republican congressional leaders will do nothing to stop the Dreamers being deported, so they blocked Supply to try to force action.
On 22 January, the shutdown ended with Democratic support after McConnell promised the Senate would vote on action for the Dreamers. However, the government's funding expires on February 8. If McConnell fails to honour his promise, it is likely there will be another US government shutdown.
The funding bill agreed to also funded the Children's Health Insurance Program for six years – a key Democratic priority.
Even if a bill that stopped the deportation of Dreamers passed the Senate, the House of Representatives is more difficult, as there is a large bloc of hard-right Republicans who would detest leaders bringing any pro-Dreamer legislation to a vote. Trump can veto legislation, and it requires a two-thirds majority in both chambers to override his veto.
The strong US economy has improved Trump's ratings in the last month. According to the FiveThirtyEight poll aggregate, Trump's ratings were 36.4% approve, 57.5% disapprove on December 16, but they are now at 39.1% approve, 55.9% disapprove.
Before the shutdown, Trump exceeded 40% approval for the first time since May 2017.
The strong US economy also appears to be helping Republicans in the race for Congress. A month ago, Democrats led Republicans by 50-37, but that advantage has shrunk to 46-39 in the FiveThirtyEight aggregate.
Republicans may also be benefiting from a lack of media focus on the controversial bills they had passed or attempted to pass, such as the corporate tax cuts or Obamacare repeal.
The shutdown was not long enough to have a large impact on Trump's ratings or the race for Congress. According to FiveThirtyEight analyst Harry Enten, the previous two long shutdowns – in 1995-96 and 2013 – had a large negative short-term impact on the Republicans, who were blamed for both. However, once the shutdowns were resolved, voters quickly forgot about the disruption.
Midterm elections will be held this November, in which all 435 House of Representatives members and one-third of the 100 senators are up for election.
Owing to natural clustering of Democrats in cities and Republican gerrymandering, Democrats probably need a high single-figure lead on the popular vote to take control of the House of Representatives. A seven-point lead for Democrats would give Republicans some chance of retaining control.
Commissioned Tasmanian polls stronger for Liberals than December EMRS
The Tasmanian election is expected to be called soon for either March 3 or 17. Tasmania uses the Hare-Clark system for its lower house, with five five-member electorates. A December EMRS poll gave the Liberals 34%, Labor 34% and the Greens 17%.
There has been no media-commissioned polling since this poll, but the Liberals released a MediaReach poll last week that gave them 41.1%, Labor 34.3%, the Greens 12.8% and the Jacqui Lambie Network (JLN) 6.2%.
A ReachTEL poll for the left-wing Australia Institute in the seat of Bass gave the Liberals 49.4%, Labor 27.6%, the Greens 10.5% and the JLN 10.1%.
MediaReach has previously only taken polls in the Northern Territory, so it does not have a track record. ReachTEL's Tasmanian polls were biased against Labor at the last two federal elections, but the Liberals performed better than ReachTEL expected at the 2014 state election.
Essential 53-47 to federal Labor
The first federal poll of 2018, an Essential poll, was released last week. Labor led by 53-47, unchanged from the final Essential poll of 2017 five weeks ago.
Primary votes were 38% Labor (steady), 37% Coalition (steady), 9% Greens (steady) and 6% One Nation (down one). This poll was conducted on January 11-15 from a sample of 1,038.
According to the Poll Bludger, Essential will be a fortnightly poll this year. Previously, Essential polled weekly, with a rolling two-week sample used for voting intentions.
Malcolm Turnbull's net approval was minus seven, down four points since December. Bill Shorten's net approval slumped to minus 17, down eight points since December.
By 44-29, voters would support Australia becoming a republic with an Australian head of state (44-30 in January 2017). By 53-38, voters would support a tax on sugar-sweetened drinks.
More than 50% thought all types of crime had increased in the last few years, including 70% who thought youth gang crime had increased, and 76% who thought drug-related crime had increased. 53% and 40% respectively thought drug crime and youth crime had increased a lot.

I expect the first Newspoll of 2018 when federal parliament resumes in early February.
Adrian Beaumont, Honorary Associate, School of Mathematics and Statistics, University of Melbourne
This article was originally published on The Conversation. Read the original article.