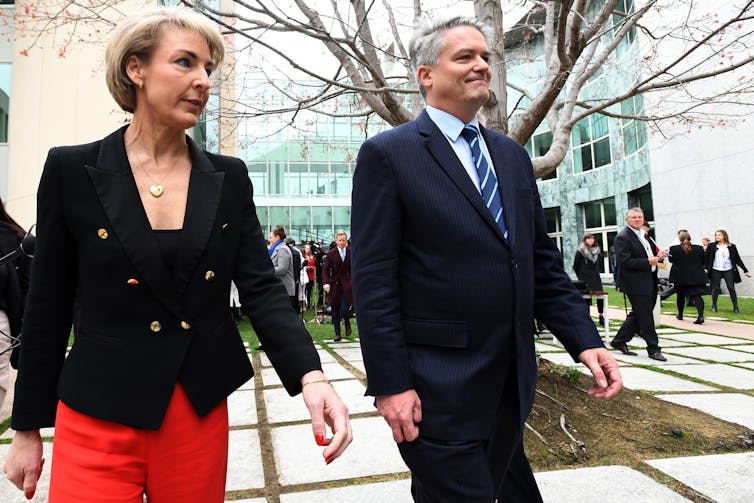 Michelle Grattan, University of Canberra
Malcolm Turnbull has been delivered a political death blow, with the resignation of three senior cabinet ministers – Mathias Cormann, Michaelia Cash and Mitch Fifield.
They said in a joint news conference shortly before 10am that they had advised Turnbull on Wednesday and again Thursday morning that he no longer had party support.
Senate leader Cormann, whose position has always been considered crucial in the leadership battle, said he had been told by five cabinet ministers who had voted for Turnbull on Tuesday that he no longer had their support.
"It's with great sadness and a heavy heart that we went to see the prime minister yesterday afternoon to advise him that in our judgment he no longer enjoyed the support of the majority of members in the Liberal Party party room and that it was in the best interests of the Liberal Party to help manage an orderly transition to a new leader.
"I can't ignore reality", Cormann said, who on Tuesday pledged continuing support to Turnbull in comments to the Senate.
A party meeting is now inevitable. The crucial question is whether Turnbull stands aside to open the way for Treasurer Scott Morrison and deputy Liberal leader Julie Bishop to possibly run.
Early Thursday morning, Peter Dutton demanded Turnbull hold a second leadership vote, as the government was locked in crisis.
Dutton told reporters: "I called the prime minister to advise him that it was my judgment that the majority of the party room no longer supported his leadership.
"As such, I asked him to convene a meeting of the Liberal Party at which I would challenge for the leadership of the parliamentary Liberal Party."
He said he would not have contacted Turnbull if he did not have majority support.
But Turnbull at that point was holding out, his camp arguing that Dutton supporters had not shown they had majority support – 43 MPs – for their call for a special meeting.
The Dutton camp circulated a petition on Wednesday night for a meeting. The canvassing has been accompanied by inducements and arm twisting by the Dutton campaign. The number who have signed the petition is unknown.
Victorian MP Sarah Henderson said she had been offered a frontbench position if she supported Dutton. "Just imagine if that was accepted and there was a change of leadership — to be rewarded for an act of treachery I think is a terrible thing."
Senior ministers were bunkered down in Turnbull's office before the press conference by the three ministers.
Two more frontbenchers resigned earlier Thursday – Zed Seselja, assistant minister for science, jobs and innovation, and Michael Sukkar, minister assisting the Treasurer. They were among the multiple ministers who offered to resign earlier this week but did not have their resignations accepted.
With serious doubt over his constitutional eligibility to sit in parliament, Dutton released legal advice that he had sought last year. This relates to whether his interest in childcare centres through a trust breaches section's 44 provision on conflict of pecuniary interest.
The advice argues that Dutton has no conflict. Releasing it on Thursday morning, Dutton said "there has never been any doubt about my eligibility". He said a "spurious and baseless campaign" had been waged against him on the matter.
Dutton supporter Craig Kelly said if there was any doubt about the matter it could be settled by selling the childcare centres.
Manager of opposition business Tony Burke said: "There are really serious question marks over whether or not the man who wants to be prime minister of Australia later on today is even eligible to be a member of parliament."
A Labor move in the parliament to refer Dutton's eligibility to the High Court was this morning defeated by 69-68.
11.11am
UPDATE: MORE MINISTERS RESIGN
Other ministers have flocked to the prime minister's office to quit – Angus Taylor, Alan Tudge, Steve Ciobo, Michael Keenan and Greg Hunt all confirmed they had tendered their resignations.
Hunt said in his letter to Turnbull: "It has become clear to me in the last 24 hours that there has been, in my view, an irretrievable loss of support for the leadership and loss of party unity within both the ministry and broader party room."
12.00pm
UPDATE: HOUSE SHUT DOWN
The government has cancelled the House of Representatives for the day. Leader of the House Christopher Pyne moved the motion for adjournment, which was carried 70-68.
Manager of opposition business Tony Burke told the House: "What is happening right now is the government have decided that this place has fallen apart so completely that they are dissolving the parliament for the day entirely.
"There will be no question time today because they don't know who their ministers are. There will be no question time today because they don't know who their prime minister is. There will be no question time today because those opposite have stopped governing."
Opposition Leader Bill Shorten said Labor had been prepared not to call divisions while there was a Liberal Party meeting.
Labor deputy leader Tanya Plibersek said: "Those opposite, they're not conservatives, they are vandals.
"Not one of the three people that we've heard touted as prime minister deserves the job.
"We have one with no authority – that's the member for Wentworth, no authority [Malcolm Turnbull]. We've got one with no legitimacy. That's the member for Dickson [Peter Dutton]. We're not even sure that he's eligible to sit in this parliament. And we've got one with no decency. The member for Cook [Scott Morrison] has never had the courage to nail his colours to the mast. Is he a conservative? Is he a moderate? Where does he stand on all this division? He is like a hyena circling around the corpse of the modern Liberal Party waiting for his chance, waiting for his chance to come up the middle.
"And the foreign minister [Julie Bishop], well, she used to be discussed as a potential future leader. She doesn't even have the courage to stand."
The House now won't sit until September 10.
12:30pm
UPDATE: DUTTON DECISIONS ON AU PAIRS SENT FOR SENATE PROBE
The Senate has voted 34-28 to refer questions about Peter Dutton's intervention as immigration minister on the visas of two foreign au pairs to a Senate inquiry.
The motion referred to the Legal and Constitutional Affairs References Committee for inquiry and report by 11 September "allegations concerning the inappropriate exercise of ministerial powers, with respect to the visa status of au pairs, and related matters".
In one case an au pair whose visa was cancelled at Brisbane airport in June 2015 made a phone call and soon after Dutton approved a visa.
Reportedly Dutton went against written concerns from his department that giving a visa to a second au pair was of "high risk", on the ground that earlier she had been warned about work restrictions.
<!– Below is The Conversation's page counter
tag. Please DO NOT REMOVE. –>


Dutton and his department have consistely blocked attempts to give a full explanation of his actions.
Michelle Grattan, Professorial Fellow, University of Canberra
This article was originally published on The Conversation. Read the original article.