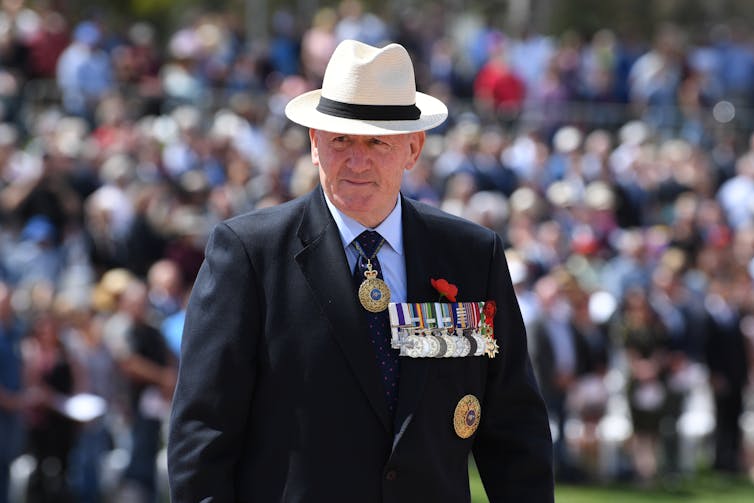 Benjamin T. Jones, Australian National University
As the debate continues over whether Australia Day should be celebrated on January 26, this series looks at the politics of some unresolved issues swirling around Australia Day – namely, the republic and reconciliation. And just for good measure, we'll check the health of Australian slang along the way.
---
The lesson of 1999 is that an Australian republic can only come about if republicans unite. Minimalists want a small-change republic, in which parliament appoints the head of state. This, they argue, will ensure the head of state does not have a popular mandate and will not interfere in day-to-day politics.
It will also preserve the character of the role. Like the current governor-general, minimalists want the role to be an honour bestowed on a worthy servant, not a prize sought through ambitious campaigning.
Direct electionists believe the spirit of republicanism is active participation. They do not want politicians to simply choose a head of state; instead, they desire a system in which the people are involved.
The hybrid model below, designed by Paul Pickering and I, aims to ensure the process is democratic but also that the dignity of the office of head of state is maintained. It harnesses the best features of minimalism and direct election.
A hybrid solution
Under our model, each state and territory parliament nominates an Australian citizen to be head of state. There is no obligation to nominate someone who was born in or who resides in that particular state.
In the opinion of at least two-thirds of sitting MPs, the nominee must:
be an Australian citizen over 18;

have served the nation with distinction in their chosen field or fields;

be of exemplary personal character and integrity; and

be willing to serve as head of state for a term of five years.
Each parliament must nominate a different person. The eight nominees are then put to a non-compulsory, first-past-the-post, national vote.
The vote is non-compulsory to emphasise this is a titular and ceremonial role. Australians do not currently vote for the governor-general or the Queen, and should not have to vote for the head of state in a republic, either.
This model deliberately casts a wide net but is protected by two hurdles. A nominee must be endorsed first by a parliamentary majority and second by a public vote.
Some minimalists argue that, under a direct-election model, an exploitative populist or crass former sports star might become head of state. The twin hurdles of our hybrid model serve as a bulwark against unbridled populism, but ultimately defer to democracy. If a nominee has the confidence of both an elected parliament and the people, they deserve to be the head of state, regardless of their critics.
The nominee with the most votes becomes the Australian head of state and serves a five-year term.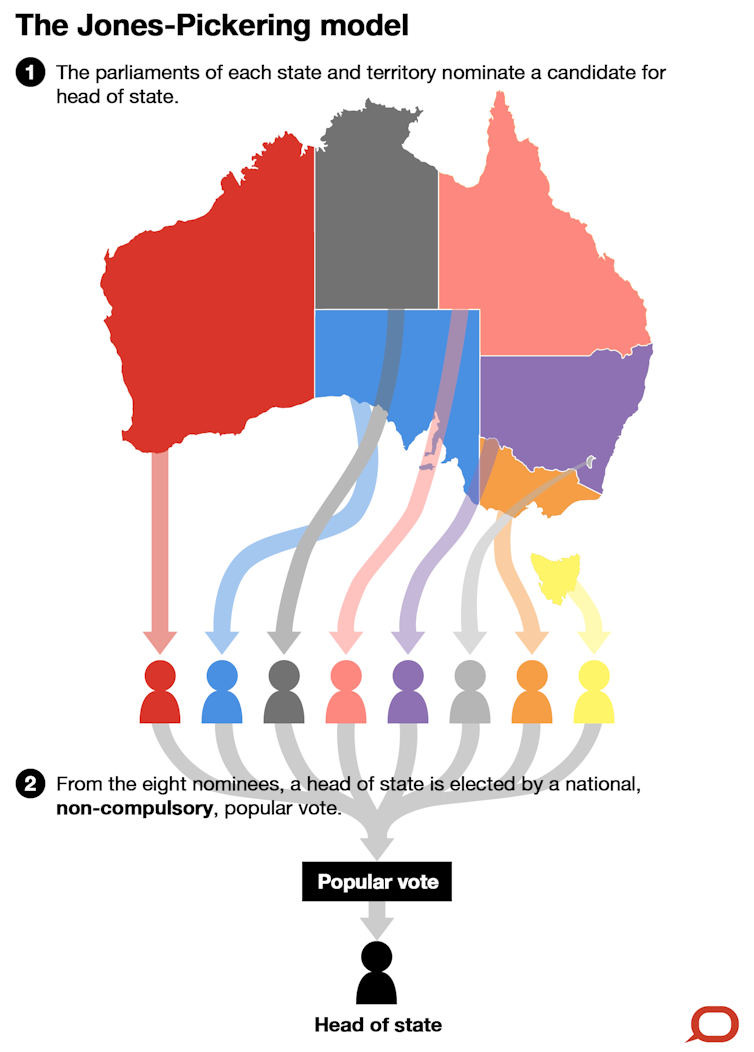 To campaign or not?
In the lead-up to the vote, the merits of each nominee are explained on the Australian Electoral Commission website. A small education budget is allocated to introduce the nominees to the public without any preference shown.
There is no need for nominees to campaign, but no penalty if they do. If supporters of a particular nominee want to conduct a traditional campaign with slogans, posters, advertisements and the like, that is their prerogative.
Many Australians would consider electioneering to be beneath the dignity of the office of head of state. Ultimately, our model puts its faith in the Australian people. They will dictate what kind of behaviour is appropriate on election day.
Casting a wide net
One possible criticism of our model is that the people can choose from just eight nominees. Opening it up to all casts a wider net in theory, but in reality it excludes many worthy candidates.
A simple direct-election model would likely result in only the wealthy, former politicians, or those with support from powerful lobby groups being nominated. In many cases, the kind of person we want as head of state is not the kind of person who would seek out such an honour.
Needing a two-thirds majority, state and territory parliaments will look for worthy individuals in a bipartisan manner. It is then over to the people to choose.
It should also be remembered that citizens are free to petition their government to endorse any particular individual.
The best of both worlds
One of our model's strengths is that it encourages active citizenship while preserving the non-partisan, ceremonial role of the head of state.
With nominations from across the states and territories, Australians will be presented with a diverse choice of distinguished individuals.
Like the nominations for Australian of the Year, it will be an opportunity to recognise and honour Australians from different walks of life. Citizens are encouraged but not coerced into deciding who they want as their representative on the international stage.
The most important feature of our model is that it preserves the current power relation between the head of state and parliament.
Like the present governor-general, the head of state under our model will be a guardian of the Constitution. They will hold important reserve powers but will be bound by convention and protocol to use them only in the event of a constitutional crisis. They should carry themselves in a manner that brings honour to the country and should tirelessly promote Australia at home and abroad.
Let democracy rule
It's worth reiterating that republicans must unite and be committed, above all, to democracy. Only with this attitude can the lazy impulse to revert to the status quo be overcome.
An Australian should be the Australian head of state. Our Constitution should be thoroughly democratic and independent. We should be able to tell our kids that they can grow up to be anything, even the head of state.
---
Benjamin T. Jones' new book This Time: Australia's Republican Past and Future is published by Black Inc.
---

Catch up on others in the series here.
Benjamin T. Jones, Australian Research Council Fellow, School of History, Australian National University
This article was originally published on The Conversation. Read the original article.