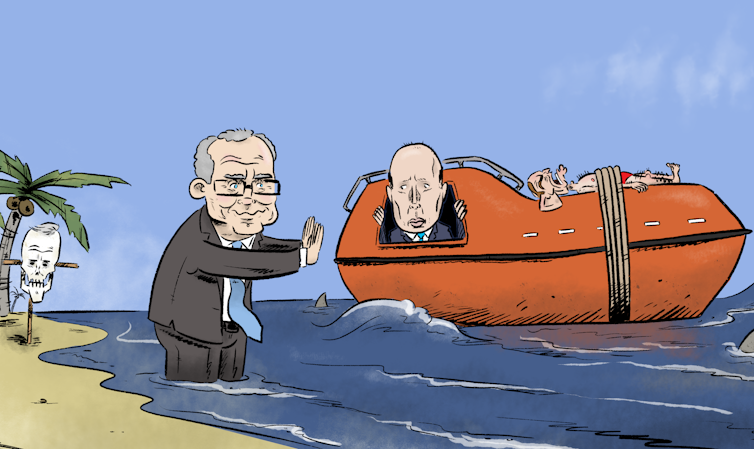 Adrian Beaumont, University of Melbourne
After a week of vicious internal party politics, Malcolm Turnbull has been deposed as prime minister and replaced not by Peter Dutton, but Scott Morrison. In today's party room vote, Morrison, who was supported by Turnbull, defeated Peter Dutton by 45 votes to 40 in the final count. In the first round vote, Dutton had 38 votes, Morrison 36, and Julie Bishop was eliminated with just 11 votes. Turnbull had lost a motion to spill the leadership, 45 votes to 40.
Hard right media commentators have detested Turnbull since he offered bipartisan support to the then Rudd Labor government's carbon emissions reductions policy. Partly as a result, Turnbull lost the opposition leader's position to Tony Abbott in December 2009, 42 votes to 41.
In September 2015, Turnbull defeated Abbott, 54 votes to 44, to become PM. This spill occurred due to 30 successive Newspoll losses for the Coalition under Abbott, during which he had often trailed Bill Shorten as better PM. Turnbull was far more popular than Abbott in the polls, and the Coalition initially surged to clear leads over Labor.
---


Read more:
Turnbull's increased popularity gives Coalition a clear lead


---
While most Australians were happy with Turnbull in late 2015, hard-right media commentators were incensed that a moderate had deposed one of their own (Abbott). The front cover of The Spectator Australia edition following Abbott's ousting tells the story.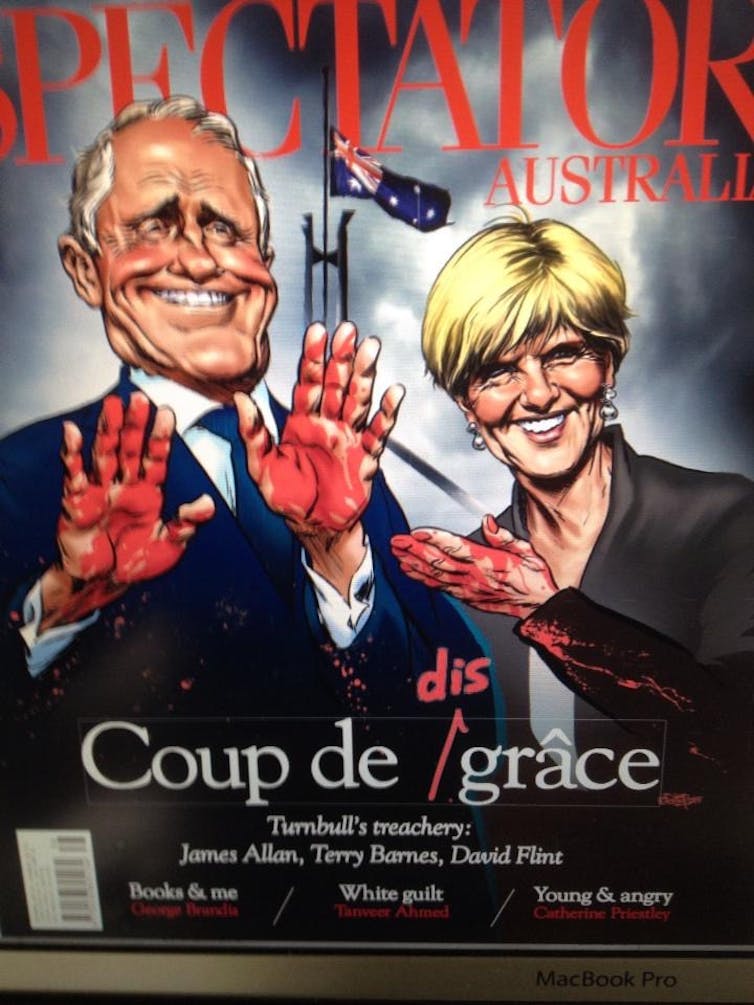 Since Turnbull became PM, hard-right commentators have campaigned against him. There were two catalysts for his fall. First, at the July 28 Longman byelection, the LNP won less than 30% of the primary vote on a swing of over 9% against, a much worse result than expected by the media.
Second, Turnbull's support for the National Energy Guarantee infuriated both right-wing MPs and media commentators who saw it as similar to his support for Rudd's emissions reductions.
---


Read more:
Poll wrap: Turnbull's Newspoll ratings slump; Labor leads in Victoria; Longman preferences helped LNP


---
Turnbull's downfall did not make electoral sense. The polls below show he was still easily the preferred Liberal leader among all voters and Liberal voters. Unlike Abbott, he always won the better PM measure against Shorten in every poll I can recall. In the few months before the Super Saturday byelections, the Coalition had closed in on Labor, and may have just missed a 50-50 Newspoll.
The incentive for dumping Turnbull was to recover the One Nation vote. As I said in Monday's article, the Coalition would have been likely to lose its moderate voters had Dutton won.
---


Read more:
Poll wrap: Coalition slumps to 55-45 deficit in Ipsos, and large swing to federal Labor in Queensland


---
I believe the main reason for Turnbull's downfall was the right-wing media's hatred of him, and its influence on Liberal MPs. Although Turnbull buckled to the right on issues such as climate change, they demanded a real conservative, not someone they thought of as a "leftie".
Morrison had not been thought of as a leadership contender, with the polling below focused on Turnbull and Dutton. A ReachTEL poll gave Morrison just 9% support for best Liberal leader, and a Morgan SMS poll had him trailing Shorten by 50.5-49.5 as better PM.
Morrison's first Cabinet position was as Abbott's hardline immigration minister after the 2013 election. But he broadened his appeal, first as Abbott's social services minister and then as Turnbull's treasurer. He is likely to have some appeal to both conservatives and moderates, and he will not be blamed for the internal warfare in the way Dutton was.
Morrison is unlikely to be as bad for the Coalition's vote as Dutton, but many moderate Liberals liked Turnbull, and it will be difficult for Morrison to attract their votes.
Turnbull has confirmed he will quit parliament soon, forcing a byelection in his seat of Wentworth. Turnbull won Wentworth by 68-32 against Labor in 2016, but he has a large personal vote, and it is an inner metropolitan seat that is unlikely to respond well to a more right-wing Liberal party.
ReachTEL and Morgan polls
A ReachTEL poll for GetUp!, conducted August 20 – the day before the first spill which Turnbull won 48-35 – from a sample of 2,260, gave Labor just a 51-49 lead, in contrast to last week's Ipsos that had Labor ahead by 55-45. No primary votes for this ReachTEL poll have been provided; it is possible the relatively good result for the Coalition is due to a strong flow of respondent allocated preferences.
As best Liberal leader among all voters, Turnbull had 36%, Abbott and Julie Bishop both had 14% and Dutton 12%. Turnbull had 59% among Liberal voters. Turnbull led Dutton by 62-38 in a forced choice head to head question.
More likely/less likely to support given a hypothetical are not useful questions. For what it is worth, 50% said they would be less likely to vote for the Coalition under Dutton, and 28% more likely. 50% of Liberal voters said they were less likely to vote for the Coalition, while 65% of One Nation voters said they were more likely.
A ReachTEL poll for the CFMEU, conducted August 22 from a sample of 2,430, gave Labor a 53-47 lead by respondent preferences. Primary votes, after a forced choice question for undecided voters, were 36.1% Coalition, 35.0% Labor, 10.8% Greens and 9.0% One Nation.
55.5% said they were less likely to vote Coalition with Dutton and 23% were more likely. 50% of current Liberal voters were less likely to vote Coalition.
Turnbull had 38% as best leader among all voters, Bishop 29%, Abbott 14%, Dutton 10% and Morrison 9%. Turnbull had 55% with Liberal voters, with Abbott second at just 14%.
<!– Below is The Conversation's page counter
tag. Please DO NOT REMOVE. –>


A Morgan SMS poll, conducted August 23 from a sample of 2,000, had no voting intentions. Bishop led Shorten 64-36 as better PM, Turnbull led Shorten 54-46, Shorten led Morrison 50.5-49.5 and Shorten led Dutton 62-38. I do not trust Morgan's SMS polls as they may be prone to opt-in bias.
Adrian Beaumont, Honorary Associate, School of Mathematics and Statistics, University of Melbourne
This article was originally published on The Conversation. Read the original article.