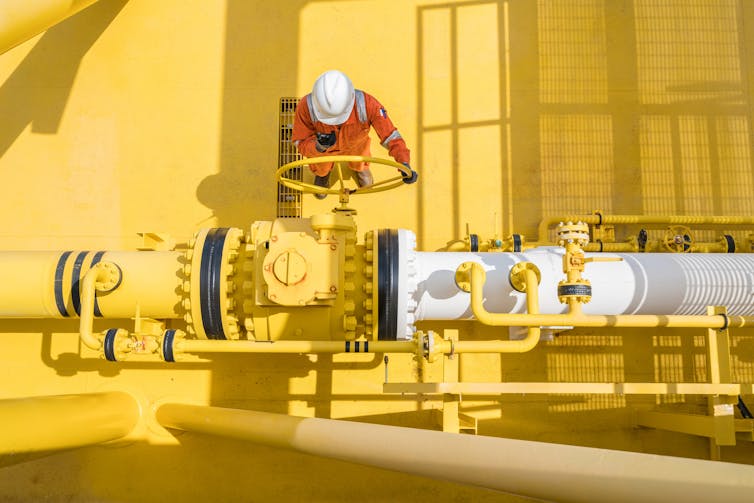 Simon Segal, Macquarie University
The Morrison government's decision to block Hong Kong's largest infrastructure company from buying one of Australia's key infrastructure companies seems to make a complicated relationship with China even more fraught.
Rejections of foreign takeover bids are extremely rare. This is just the sixth such decision in nearly two decades.
It might be argued the blocking of the A$13 billion bid for gas pipeline operator APA Group by Cheung Kong Infrastructure (CKI) Holdings reflects increasing politicisation of Australia's process for reviewing foreign investment.
But this is not a political shot across the bows like China's announced anti-dumping probe into imports of Australian barley. This takeover proposal was always doubtful. News of its knock-back potentially damaging relations with China, or foreign investment more generally, are greatly exaggerated.
---


Read more:
As tensions ratchet up between China and the US, Australia risks being caught in the crossfire


---
Always unlikely
APA Group owns 15,000 km of natural gas pipelines and supplies about half the gas used in Australia. It owns or has interests in gas storage facilities, gas-fired power stations, and wind and solar renewable energy generators.
---
---
Back in September, after APA accepted the takeover offer from a CKI-led consortium, the investment research company Morningstar judged it unlikely that Australia's Foreign Investment Review Board would approve the bid.
The board is only an advisory body. The final decision rests with the federal treasurer. Josh Frydenberg signalled his intention to block the deal in early November, giving CKI a few weeks to change its proposal, either by selling assets or finding other investment partners, enough to change his mind.
That did not happen. Frydenberg's final decision to block the bid was based, he said, on "a single foreign company group having sole ownership and control over Australia's most significant gas transmission business".
He emphasised the government remained committed to welcoming foreign investment: "foreign investment helps support jobs and rising living standards."
It's not all about CKI
CKI is not state-controlled. It is headed by the son of Hong Kong's richest man, Li Ka-shing, and has a history of considerable success in investing in Australia.
Nonetheless speculation about the rejection damaging the Australia-China relationship has ensued. In the words of the South China Morning Post: "As the most China-dependent developed economy, Australia potentially has a lot to lose should relations with its biggest trading partner deteriorate further."
---


Read more:
Australia and China push the 'reset' button on an important relationship


---
Let's put this into perspective.
First, there is broad bipartisan agreement that foreign investment is crucial to Australia's economic prosperity.
Second, as already mentioned, this is just the sixth major public foreign investment proposal blocked since 2000. (All but one, notably, have been by Liberal treasurers.)
Third, all six rejections have been case-specific. Each bid has been considered on its merits.
This case arguably has less to with CKI being Chinese linked than with the size and significance of APA, whose transmission system includes three-quarters of the pipes in NSW and Victoria.
In 2016 CKI's A$11 billion bid for NSW electricity distributor Ausgrid was also blocked (by then-treasurer Scott Morrison) on national security grounds.
But in 2017 CKI won approval for its A$7.4 billion bid for West Australian-focused electricity and gas distribution giant DUET. And in 2014 CKI's acquisition of gas distributor Envestra (now Australian Gas Networks) was also cleared.
Shifting emphasis
This is not to deny that politics played a part in Frydenberg's decision.
The seven-person FIRB board was divided (the exact votes are not known). The Treasurer's call could have gone either way.
Forces within the Liberal Party that opposed Malcolm Turnbull's leadership have also been deeply hostile to APA's sale to CKI. Among the most vociferous was NSW senator Jim Molan, who warned of "hidden dragons" in the deal.
For a minority government lagging in the polls and just months away from an election, such views have assumed inflated importance.
Nonetheless the APA decision was not a surprise. Greater scrutiny is now part and parcel of the Foreign Investment Review Board process. In particular, the emphasis has firmly shifted over the past few years to scrutinising national security and taxation areas.
---


Read more:
How Australia can help the US make democracy harder to hack


---
The Critical Infrastructure Centre within the Department of Home Affairs, which became fully operational this year, brings together capability from across the federal government to manage national security risks from foreign involvement in Australia's critical infrastructure. It's particularly focused on telecommunications, electricity, gas, water and ports.
David Irvine, who has chaired the Foreign Investment Review Board since April 2017, is a former head of the Australian Security Intelligence Organisation.
This shifting emphasis does not equate to a bias against foreign investment per se. There is no evidence investors, including Chinese, are being discouraged or significantly deterred from investing in Australia.
CKI itself demonstrates, by returning to Australia despite previous rejections, that foreign investors will not give up so long as the next deal stacks up. There is already speculation CKI has moved on, and now has its eyes on Spark Infrastructure, an ASX-listed owner of energy asset.

Simon Segal, PhD research candidate, Business, Macquarie University
This article is republished from The Conversation under a Creative Commons license. Read the original article.