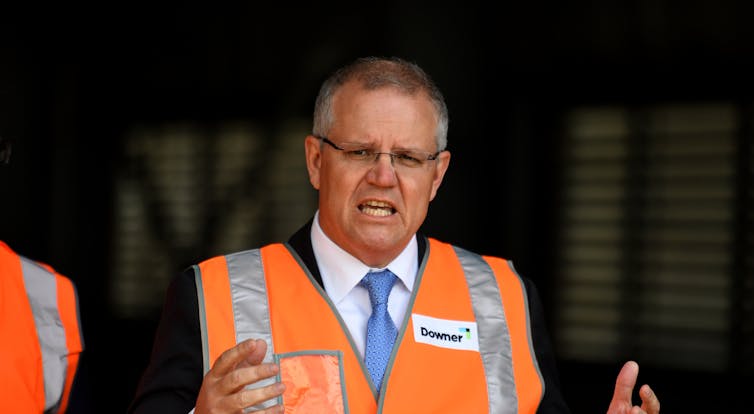 Adrian Beaumont, University of Melbourne
This week's Newspoll, conducted September 20-23 from a sample of 1,680, gave Labor a 54-46 lead, a two-point gain for the Coalition since last fortnight. Primary votes were 39% Labor (down three), 36% Coalition (up two), 10% Greens (steady) and 6% One Nation (steady).
This is the Coalition's 41st successive Newspoll loss. In Malcolm Turnbull's last four Newspolls as PM, the Coalition trailed Labor by just 51-49. In Scott Morrison's first three as PM, Labor has had two 56-44 leads followed by a 54-46 lead. This Newspoll contrasts with last week's Ipsos, which gave Labor just 31% of the primary vote and the Greens 15%.
---


Read more:
Poll wrap: Labor's lead shrinks in federal Ipsos, but grows in Victorian Galaxy; Trump's ratings slip


---
44% were satisfied with Morrison (up three) and 39% were dissatisfied (steady), for a net approval of +5. After rising ten points last fortnight, Bill Shorten's net approval slumped eight points this week to -22. Morrison led Shorten as better PM by 45-32 (43-37 last fortnight). Morrison also led Shorten by 46-31 on who is the more "authentic" leader.
Morrison is currently benefiting from a personal ratings "honeymoon" effect, while Shorten's honeymoon is long over. However, Morrison's ratings are far worse than for Turnbull's first two Newspolls as PM, with Turnbull's net approval at +18 then +25, compared with Morrison's +2 and +5. Honeymoon polling is not predictive of the PM's long-term ratings.
On September 5, the ABS reported that the Australian economy grew by 0.9% in the June quarter for a 3.4% annual growth rate in the year to June. On September 13, the ABS reported that 44,000 jobs were created in August in seasonally-adjusted terms, with the unemployment rate remaining at 5.3%.
Greg Jericho wrote in The Guardian that these figures are very good for the government. The narrowing of Labor's lead to 51-49 in Turnbull's last four Newspolls as PM probably reflected good economic news as well as a period where the Coalition was relatively unified.
Given Morrison's relatively good personal ratings and the economy, the Coalition is performing far worse than would be expected on voting intentions. In the US, Donald Trump's ratings are far worse than they should be given the strength of the US economy. Perhaps being very right-wing is not a vote winner.
---


Read more:
Polls update: Trump's ratings held up by US economy; Australian polls steady


---
Essential poll: 53-47 to Labor
This week's Essential poll, conducted September 20-23 from a sample of 1,030, gave Labor a 53-47 lead, a one-point gain for the Coalition since last fortnight. Primary votes were 37% Coalition (up one), 36% Labor (down one) 12% Greens (up two) and 5% One Nation (down three).
Essential is using 2016 election preferences for its two party estimates, while Newspoll assigns One Nation preferences about 60-40 to the Coalition. Essential has probably been rounded down to 53% to Labor this week, while Newspoll has been rounded up to 54%.
70% in Essential had at least some trust in the federal police, 67% in the state police, 61% in the High Court and 54% in the ABC. At the bottom, 28% had at least some trust in federal parliament and in religious organisations, 25% in trade unions and just 15% in political parties. Since October 2017, trust in local councils is up four points, but trust in political parties is down three.
By 61-21, voters would support the Liberals adopting quotas to increase the number of Liberal women in parliament. By 37-26, voters would support a new law enshrining religious freedoms, but most people would currently have no idea what this debate is about.
45% thought corruption was widespread in politics, with 36% saying the same about the banking and finance sector, 29% about unions and 25% about large corporations. The establishment of an independent federal corruption body was supported by an overwhelming 82-5.
By 78-14, voters agreed that there should be laws requiring equal pay for men and women in the same position. However, voters also agreed 47-44 that gender equality has come far enough already.
53% approve of constitutional amendment to separate government and religion
The NSW Rationalists commissioned YouGov Galaxy, which also does Newspoll, for a poll question about separation of government and religion. The survey was conducted from August 30 to September 3 from a national sample of 1,027.
The question asked was, "Australia has no formal recognition of separation of government and religion. Would you approve or disapprove of a constitutional amendment to formally separate government and religion?"
53% approved of such an amendment, just 14% disapproved and 32% were unsure. Morrison advocates new laws to protect religious freedom, but this poll question does not suggest there is any yearning within Australia for more religion. The same-sex marriage plebiscite, in which Yes to SSM won by 61.6% to 38.4%, was a huge defeat for social conservatism.
More results and analysis are on my personal website.
Phelps to preference Liberals in Wentworth
The Wentworth byelection will be held on October 20. On September 21, high-profile independent candidate Kerryn Phelps announced that she would recommend preferences to the Liberals. Just five days earlier, Phelps had said voters should put the Liberals last.
Until her preference decision, Phelps had appeared to be a left-wing independent candidate, but Wentworth is unlikely to be won from the left. This decision will cost Phelps left-wing support; the question is whether she wins over enough right-wing voters who dislike the Liberals or the Liberal candidate, Dave Sharma, to compensate for the loss of left-wing voters.
By backflipping on the "put the Liberals last" message, Phelps has made an issue of her preferences that may dog her for the rest of the campaign.
Phelps' preferences will not be distributed if she finishes first or second, and Labor preferences will still assist her against the Liberals. If primary votes have Sharma well ahead, and Labor and Phelps in a close race for second, Phelps is now more likely to be excluded owing to Greens preferences. If the final two are the Liberals and Labor, Phelps' preferences will help the Liberals, relative to her previous position of putting them last.
NSW ReachTEL poll: 50-50 tie
The New South Wales election will be held in March 2019. The first state poll in six months is a ReachTEL poll for The Sun-Herald, conducted September 20 from a sample of 1,630. The Coalition and Labor were tied at 50-50 by 2015 election preference flows, a two-point gain for Labor since a March ReachTEL.
Primary votes were 35.1% Coalition (down 6.8%), 31.5% Labor (down 1.0%), 10.2% Greens (up 0.8%), 6.1% Shooters, Fishers and Farmers, 4.2% One Nation (down 0.9%), 7.0% for all Others and 5.9% undecided. If undecided voters are excluded, primary votes become 37.3% Coalition, 33.5% Labor, 10.8% Greens, 6.5% Shooters and 4.5% One Nation.
Opposition Leader Luke Foley had a very narrow 50.2-49.8 lead over incumbent Gladys Berejiklian as better premier, a 2.5% gain for Foley since March. ReachTEL's forced choice better PM/Premier questions usually give opposition leaders better results than polls that do not use a forced choice.
It is likely that the federal leadership crisis had some impact on NSW state polling, but we do not know how much, as the last NSW state poll was in March.
As I wrote last week, independent Joe McGirr defeated the Liberals in the September 8 Wagga Wagga byelection by a 59.6-40.4 margin. The Labor vs Liberal two party vote gave Labor a narrow 50.1-49.9 win, a 13.0% swing to Labor since the 2015 election.

Adrian Beaumont, Honorary Associate, School of Mathematics and Statistics, University of Melbourne
This article is republished from The Conversation under a Creative Commons license. Read the original article.