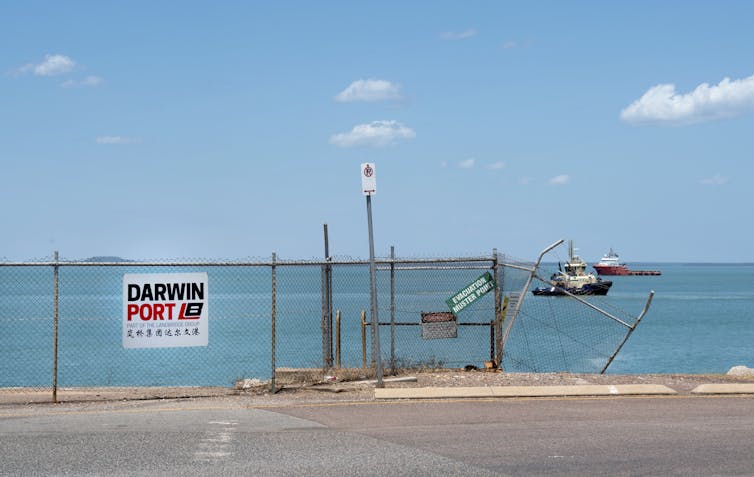 John Garrick, Charles Darwin University
An agreement between Darwin's city council and an overseas municipal counterpart normally wouldn't attract much attention. Local government officials love signing such deals. Darwin already has no less than six "sister city" arrangements, including with the Chinese city of Haikou.
But attention has been drawn to Darwin's newly minted "friendship" deal with Yuexiu District, in Guangzhou, due to Chinese media describing it as part of President Xi Jinping's signature Belt and Road Initiative.
This suggests Chinese authorities regard Darwin as having strategic significance.
It invites reflection on the wisdom, three years ago, of the Northern Territory government deciding to lease the Port of Darwin (now known as Darwin Port) to a Chinese company for 99 years – and of the federal government going along with it.
At the time the new owner, billionaire Ye Cheng, claimed the Darwin port deal was "our involvement in One Belt, One Road". This was discounted by some commentators as hyperbole, an attempt to curry favour with the Chinese government.
But now, by design or not, the Darwin port deal increasingly looks like a blueprint for how Chinese interests can take control of foreign ports – as it is doing by various means around the world – without arousing local opposition. Quite the reverse. All levels of Australian government have encouraged it.
It makes Darwin an interesting case study – a point of contest between the strategies of the US and China. Darwin's port is under Chinese control, while thousands of US marines are based in the city, as part of the US "Pacific pivot" seen by many as an effort to contain China's influence in the region.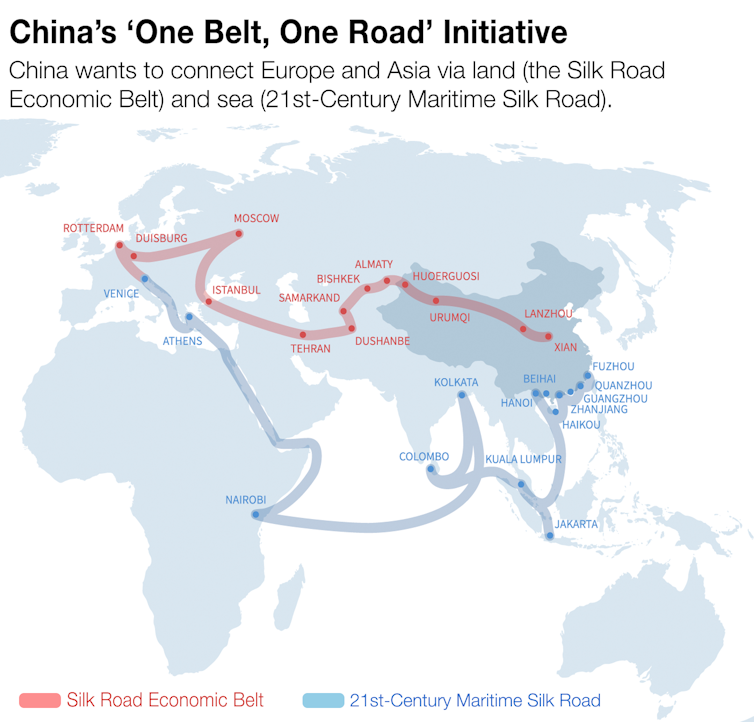 How the port deal was done
The deal to lease parts of the port followed successive federal governments refusing to fund necessary upgrading of the port's infrastructure to meet growing demand.
Infrastucture Australia advised privatisation. Rather than sell outright, the territory government decided to lease the port, and sell a controlling stake in the port's operator.
Landbridge Australia, a subsidiary of Shandong Landbridge, won the 99-year lease with its bid of A$506 million in November 2015.
Shandong Landbridge has substantial and varied interests including port logistics and petrochemicals. Though privately owned, like many Chinese companies it has strong ties to the ruling Chinese Communist Party.
The company knows how to cultivate political connections. In Australia it gave influential Liberal Party figure and former trade minister Andrew Robb an $880,000 job just months after he retired from parliament.
---


Read more:
Chinese influence compromises the integrity of our politics


---
The bid for the port was examined and approved by the Foreign Investments Review Board, the Defence Department and ASIO.
Strategic importance
But the deal put Darwin directly in the crossfire between US and Chinese interests. Then US president Barack Obama expressed concern about the lack of consultation. Former deputy secretary of state Richard Armitage said he was "stunned" that Australia had "blind-sided" its ally.
While the centre of US-Chinese tensions is the South China Sea – where China has militarised reefs in disputed waters – Darwin is important because it is the southern flank of US operations in the Pacific.
Managing the tensions
Zhang Jie, a researcher at the Chinese Academy of Social Sciences, wrote in 2015 about the concept of "first civilian, later military" – in which commercial ports are to be built with the goal of slowly being developed into "strategic support points" – to assist China defending maritime channel security and control key waterways.
Military-civilian integration was among the goals China set in its 13th five-year plan for 2016-20. President Xi subsequently established an integration committee to oversee civilian and military investment in technology.
As with other Chinese port acquisitions, such as in Sri Lanka, Pakistan, Greece and Djibouti, Landbridge is interested in acquiring and developing not only Darwin's port facilities but nearby waterfront property.
But the Darwin port deal differs in significant ways to other port acquisitions.
It is a far cry from the "debt-trap colonialism" China stands accused of using to gain leverage over other foreign governments, such as Sri Lanka and Nepal.
---


Read more:
Soft power goes hard: China's economic interest in the Pacific comes with strings attached


---
Landbridge has bought the lease, rather than a Chinese bank lending funds to the Northern Territory government to develop the port. If Landbridge was to default, it would lose its money. Any attempt by Landbridge to use the port as security to borrow money from a Chinese bank would trigger renegotiation of the lease.
The territory government retains a 20% stake in the port operator and has a say in key appointments such as the chief executive and chief financial officer. But it will not share any profit that Landbridge may eventually make.
That potential is a long way off. Landbridge Australia reported a loss of A$31 million for the 2017 financial year, with its total borrowings rising to A$463 million. If the deal falls over, the government will need to seek new equity partners. But its immediate commercial risks are relatively contained.
Other risks
Yet risk exposure may take other forms. China's strategy is very long-term. Darwin is now on the front line in managing tensions between Australia's most important strategic ally and partner and its major trading partner. Balancing between powerful friends with competing interests may not prove easy.
---


Read more:
The risks of a new Cold War between the US and China are real: here's why


---
There are indications of some recognition of this at the federal level. Australia's foreign investment review processes have been tightened. A Critical Infrastructure Centre has been created to give extra national security advice. There has been some tweaking of rules about political parties accepting foreign donations.
But others may have learnt valuable lessons too.
Weaknesses in Australian governments at all levels have been revealed. They have been reactive, readily accepting the lure of pearls cast on our shores without considering longer-term currents. Foreign and strategic policy has effectively been left to the local level. While the federal government now seeks to shore up its interests in the Pacific with cash for infrastructure, similar commitments to investing in local infrastructure are essential.
Clumsiness and indecision do not serve Australian interests well.

John Garrick, Senior Lecturer, Business Law, Charles Darwin University
This article is republished from The Conversation under a Creative Commons license. Read the original article.