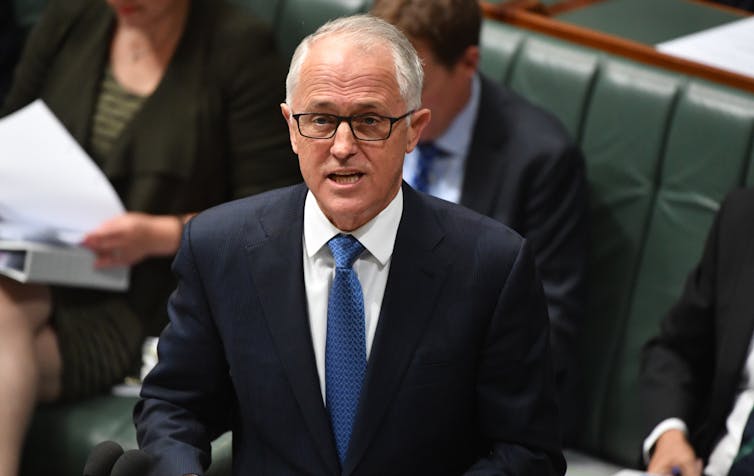 Anne Twomey, University of Sydney
Preventing foreign influence over Australian elections is important. It is also important that legislation designed to achieve this is effective and does not impose collateral damage or leave itself open to constitutional challenge.
How well does the Turnbull government's foreign donations bill stack up? Does it achieve its aim of preventing foreign donations from affecting Australian elections?
Not at all. It permits foreign citizens to make as many political donations in as large amounts as they wish, if it is done by a permanent resident or a foreign-owned company that is incorporated in Australia.
To be fair, there are constitutional reasons for this. It is unlikely that a ban on donations from permanent residents or companies incorporated in Australia would survive a constitutional challenge. But it also means any foreign government seeking to influence Australian elections can still easily do so.
The only effective way of destroying the undue influence of large foreign donations is by placing a cap on all donations, as occurs in New South Wales. But the federal government has chosen not to go down this path.
---


Read more:
Ban on foreign political donations is both too broad and too narrow, and won't fix our system


---
It is ironic, then, that Special Minister of State Mathias Cormann says exempting charities from the bill would render the ban on foreign donations "entirely ineffective". It is ineffective at preventing foreign influence anyway, so excluding charities could hardly make any difference to achieving that aim.
Meanwhile, Prime Minister Malcolm Turnbull argues that only seven out of 55,500 registered charities reported political expenditure last financial year, and that the bill "has no effect on foreign funding for charities' non-political activity or charities' political campaigning where it is funded by Australians".
This is misleading for two reasons.
First, the bill relies on a greatly broadened definition of political expenditure. It now includes any expenditure on the expression of public views on an issue that is "likely to be before electors in an election", regardless of when the election is held. This could include anything from expenditure on ads supporting same-sex marriage to books on climate change and websites supporting Indigenous constitutional recognition. Given the wide range of issues that may be before electors in an election, the bill is likely to catch a large number of charities, along with universities, corporations and others.
Second, it does not matter whether a charity actually receives any foreign donations or not. It may only receive donations from Australian sources and still be seriously affected by the bill. This is because onerous reporting obligations attach to bodies deemed to be either a "political campaigner" or "third party campaigner".
For example, spending as little as A$14,000 on the public expression of views on an issue that is likely to be before electors is sufficient to be categorised as a third party campaigner, regardless of whether or not the person or body receives any foreign donations.
A third party campaigner must lodge annual reports detailing:
its political expenditure
its senior staff and any membership by them of political parties
any grants, contracts or payments from Commonwealth, State or Territory governments
a signed statement by its financial controller that it has complied with the rules about receiving gifts, such as charitable donations.
If a third party campaigner has received gifts that allowed it to engage in political expenditure, and the amount of at least one such gift (or cumulative gifts from the same donor) was above A$13,500, then it also has to provide an annual return that sets out the amounts of such donations, the date they were made and the name and address of each donor.
Most burdensome of all is the requirement to identify the source of every gift it receives. This includes very small donations, as it has to be able to identify whether the gifts from any single donor cumulatively exceed A$250. It then has to obtain a statutory declaration from each donor of more than A$250 that they are an "allowable donor", such as a citizen, a permanent resident or a body incorporated in Australia. The penalty for breaching these requirements is up to 10 years imprisonment for the financial controller of the third party campaigner.
If you were a charity, which only collected donations from within Australia, and you wished to spend money on advocacy about government policies on homelessness, what would you do? Would you send lawyers out to accompany every door-knocker when you collect donations? Would you risk insulting your donors by requiring them to sign a legal document declaring that they are citizens or permanent residents?
Would you spend a considerable portion of the donations you receive on administering a complex reporting system, with the risk of imprisonment if you breach the rules? Or would you decide that the only rational solution is not to spend any money on advocacy about homelessness?
---


Read more:
Green groups and charities could be collateral damage in government's foreign donation ban


---
If the purpose of this bill is to prevent foreign donations from influencing elections, it manifestly does not achieve that outcome. Foreign citizens can still donate as much as they like to Australian political parties by donating through a company they have incorporated in Australia.
But if the purpose of the bill is to deter charities and other third parties (regardless of whether they have received a single cent of foreign money) from spending money on the public expression of views that might entail criticism of government policies, then it would very effectively achieve that outcome.
This disconnect between the bill's claimed purpose and likely effect may cause problems for the government if the legislation is passed and then challenged before the High Court. The Court has already held that limiting the sources of political donations imposes a burden on the constitutionally implied freedom of political communication.
Such a law will only be valid if it passes a proportionality test. That is, the law must be reasonably appropriate and adapted to achieve its claimed legitimate purpose. If its effects go far beyond that purpose, are unnecessary to achieve that purpose and disproportionately damage political communication, then the law will be held invalid.

On that basis, this bill is highly vulnerable to a constitutional challenge and needs to be redrafted so that it achieves its aim but does not impose unnecessary collateral damage on charities and other bodies.
Anne Twomey, Professor of Constitutional Law, University of Sydney
This article was originally published on The Conversation. Read the original article.