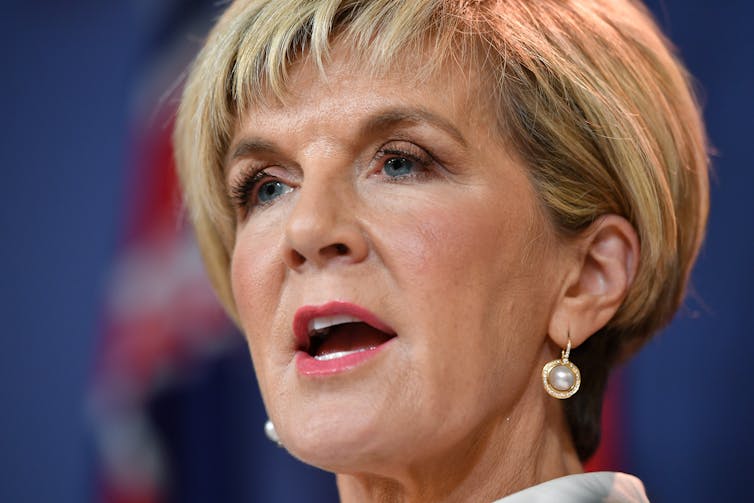 Michelle Grattan, University of Canberra
The Australian government is expelling two Russian spies as part of a broad international retaliatory action against the nerve agent attack on the former Russian double agent Sergei Skripal and his daughter Yulia in Britain earlier this month.
The diplomats have been "identified as undeclared intelligence officers", Prime Minister Malcolm Turnbull and Foreign Minister Julie Bishop said in a statement on Tuesday morning. "Undeclared intelligence agents" are spies.
More than 20 Western countries, including the US, EU countries and Canada, are expelling more than 100 Russians, in a dramatic escalation of the push against Russia. British Prime Minister Theresa May told the UK parliament this was "the largest collective expulsion of Russian intelligence officers in history".
Turnbull and Bishop said the Russians had to leave within a week "for actions inconsistent with their status".
"This decision reflects the shocking nature of the attack – the first offensive use of chemical weapons in Europe since World War II, involving a highly lethal substance in a populated area, endangering countless other members of the community," they said in a statement.
"It takes into account advice from the UK government that the substance used on 4 March was a military-grade nerve agent of a type developed by Russia. Such an attack cannot be tolerated by any sovereign nation.
"We strongly support the call on Russia to disclose the full extent of its chemical weapons program in accordance with international law.
"This attack is part of a pattern of reckless and deliberate conduct by the Russian state that constitutes a growing threat to international security, global non-proliferation rules against the use of chemical weapons, the rights of other sovereign nations and the international rules-based order that underpins them," the statement said.
Turnbull briefed Opposition Leader Bill Shorten, who immediately backed the action.
"I have spoken to the security agencies. I am very supportive of this measure," Shorten told reporters.
"These are undeclared agents and so therefore it is inappropriate that they be in Australia."
Asked whether he believed it was beyond doubt that the Russians were involved in the nerve agent attack, Shorten said "our security agencies have that view and therefore I think this is a proportionate action today".
Sergei and Yulia Skripal remain in a critical condition.
Update:
The Russian embassy issued a statement saying: "It is astonishing how easily the allies of Great Britain follow it blindly contrary to the norms of civilised bilateral dialogue and international relations, and against the common sense. The modern world is not in a stage when it is possible to dictate anything to anybody, regardless of the nostalgia for past grandeur in certain capitals."
The statement said that "neither the Russian side, attempt on which citizens' life was made, nor other states possess impartial exhaustive information about the 'Skripal case'".
"Such flagrant and primitive campaigns as the 'Skripal case' that are crudely orchestrated by London, could only trigger further erosion of international relations architecture on which peace and security in the whole world during the post-war period were rested."
Further update

Russia's ambassador in Canberra Grigory Logvinov dodged the question of whether the Russians expelled are spies. "No ambassador would give you an answer, and actually ask your authorities how they could judge who is a special agent or not. Within my embassy, there are only career diplomats," he told the ABC.
Michelle Grattan, Professorial Fellow, University of Canberra
This article was originally published on The Conversation. Read the original article.