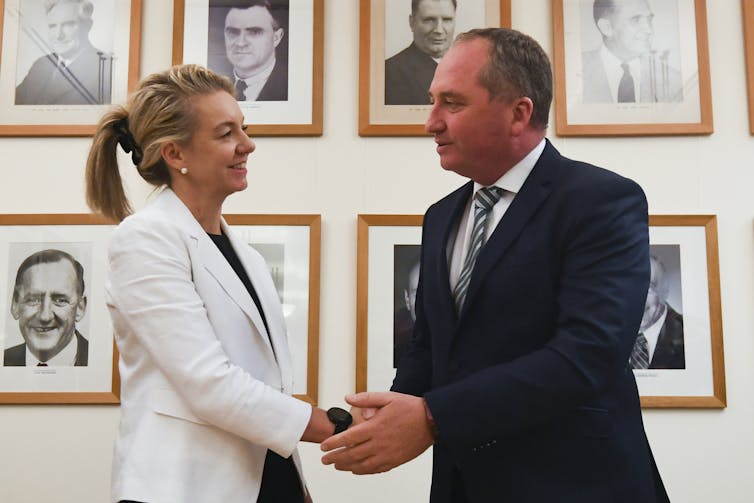 Michelle Grattan, University of Canberra
The Nationals have elected Victorian senator Bridget McKenzie as deputy leader to replace Fiona Nash, who was disqualified from parliament by the High Court.
The win will propel McKenzie, 47, from the backbench into the cabinet when Malcolm Turnbull announces a ministerial reshuffle after the December 16 Bennelong byelection.
Promoted by cabinet minister Darren Chester, also from Victoria, McKenzie beat several other candidates, including Resources Minister Matt Canavan, a cabinet member.
This is the second consecutive time the party has chosen a female senator as deputy leader.
The Nationals have had five spots in cabinet and there has been some talk about whether the loss of Nash from the party's parliamentary numbers will affect their entitlement, which is based on an arithmetic formula.
But Nationals sources say the arithmetic can be cut more than one way, depending on what date is used for comparison, and also that Malcolm Turnbull and Barnaby Joyce will not want to disturb the Coalition relationship.
Joyce's strong win in the New England byelection on Saturday provided Turnbull with a fillip going into the final week of parliament. Joyce was sworn back into parliament on Wednesday and his vote ensured Labor failed to be able to refer a "job lot" of MPs, including four Liberals, to the High Court.
The euphoria surrounding the byelection win has soothed some Coalition tensions, including over the rebel Nationals forcing the government's hand last week to set up a royal commission into the banks.
Much interest in the coming reshuffle will centre on George Brandis. After months of speculation that Brandis would leave parliament, the attorney-general, who has recently performed well after earlier political missteps, said this week he intended to stay.
It earlier had been an open secret that Turnbull saw the likely departure of Brandis as an opportunity to elevate Mathias Cormann, now deputy Senate leader and a conservative ally of Turnbull, to Brandis' position of Senate leader.

Brandis has recently been active in asserting the positions of the Liberal moderates; he has been a vocal backer of the same-sex marriage legislation, which is set to pass on Thursday.
https://www.podbean.com/media/player/xac9s-7e77c6?from=site&skin=1&share=1&fonts=Helvetica&auto=0&download=0
Michelle Grattan, Professorial Fellow, University of Canberra
This article was originally published on The Conversation. Read the original article.