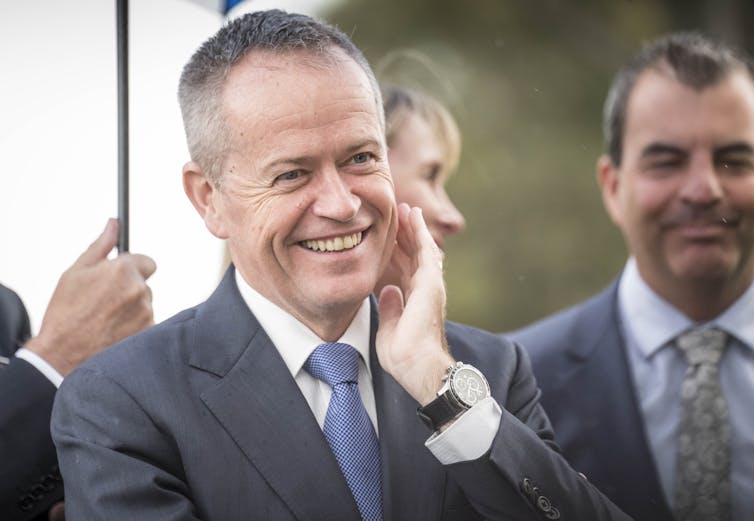 Adrian Beaumont, University of Melbourne
On April 6, the Electoral Commission announced draft boundaries for Victoria and the ACT, with both jurisdictions gaining a House seat. Victoria went from 37 to 38 seats, and the ACT from two to three.
As a result of these changes, Labor notionally gained two seats in Victoria and one in the ACT, and the Coalition lost two seats in Victoria.
---


Read more:
Poll wrap: Labor maintains its lead as voters reject company tax cuts; wins on redrawn boundaries


---
On Friday, draft boundaries were announced for South Australia, with that state dropping from 11 seats to ten. According to The Poll Bludger, the safe Labor-held seat of Port Adelaide is to be abolished, but the new seat of Spence (formerly Wakefield), Adelaide and Hindmarsh become much safer for Labor.
Margins in Liberal-held seats were not greatly affected by the redistribution. Boothby has been reduced from a 3.5% to a 2.8% Liberal margin, and the SA-BEST-held seat of Mayo goes from a 5.4% to a 3.3% Liberal vs Labor margin. After SA-BEST performed poorly in the South Australian election, Mayo is an opportunity for either major party.
After the next election, there will be 151 seats in the House of Representatives, up from the current 150. The Coalition will notionally hold 74 seats (down two), Labor 71 (up two), and the five current cross-benchers notionally hold their seats. The new Victorian seat of Cox (formerly Corangamite) is too close to call on the new boundaries between the Liberals and Labor.
On the new boundaries, Labor requires just a five-seat gain to win a majority, while the Coalition needs to gain two seats to retain its majority.
The draft boundaries will go through a further consultation process before they are finalised. Final boundaries will be gazetted (become official) by July 20. If an election is called before all boundaries are gazetted, emergency redistributions are used. These emergency redistributions have never been used.
An election of the House and half the Senate could be called in early July, before the new boundaries are gazetted. However, according to the ABC's Antony Green, the Coalition would lose from the emergency redistributions.
South Australian election final result: 25 Liberals, 19 Labor, 3 Independents
At the South Australian election held on March 17, the Liberals won 25 of the 47 lower house seats (up three since the 2014 election), Labor 19 (down four) and independents three (up one).
The Liberals won the two party vote by a 51.9-48.1 margin, but this represented a 1.1% swing to Labor from 2014, when Labor clung to power despite losing the popular vote 53.0-47.0.
Primary votes were 38.0% Liberal (down 6.8%), 32.8% Labor (down 3.0%), 14.2% SA-BEST, 6.7% Greens (down 2.1%) and 3.0% Conservatives (down 3.2% from Family First's 2014 vote).
In South Australia, there is a fairness clause that requires boundaries to be drawn so a party with over 50% of the two party vote should win the election. The boundaries used at this election notionally gave the Liberals 26 seats, Labor 20 and one independent (Geoff Brock in Frome).
---


Read more:
Xenophon's SA-BEST slumps in a South Australian Newspoll, while Turnbull's better PM lead narrows


---
On the new boundaries, both major parties lost a seat to independents who had defected during the last parliamentary term. The Liberals gained King from Labor, but Labor gained Mawson from the Liberals. In Mawson, sitting Labor member Leon Bignell had a 4.5% swing in his favour, just overcoming a hostile redistribution.
---


Read more:
Liberals win South Australian election as Xenophon crushed, while Labor stuns the Greens in Batman


---
Conservative commentators such as Graham Richardson have blamed Labor's loss partly on its renewable energy policies. Between 2011 and 2014, Labor governments that had been in power for 14 to 16 years were smashed in New South Wales, Queensland and Tasmania. In South Australia, Labor had a two party swing in its favour. Renewable energy probably helped Labor, rather than damaged it.
The upper house results have not yet been finalised. In the race for the final seat, Labor has 3.46 quotas and the Conservatives 0.42. With preferences to come from Animal Justice, Dignity, SA-BEST and the Liberal Democrats, it is likely that Labor's fourth candidate will defeat the Conservatives.
Final Tasmanian result: 13 Liberals, ten Labor, two Greens
At the Tasmanian election held on March 3, the Liberals won 13 of the 25 lower house seats (down two since the 2014 election), Labor won ten (up three) and the Greens two (down one). This is the first time a single party has had a one-seat majority at a Tasmanian election since 1978.
---


Read more:
Liberals romp to emphatic victory in Tasmanian election


---
There were two seats contested between different parties that were undecided on election night. In Franklin, the Greens won the final seat by 226 votes or 0.02 quotas against the Liberals. Labor gained a seat from the Liberals.
Final primary votes gave the Liberals 2.90 quotas, Labor 2.06, the Greens 0.86 and the Shooters 0.17. As expected, the Liberals greatly benefited from Shooters' preferences, but were damaged by within-ticket leakage. With only Labor votes left (they had 2.20 quotas at this point), the final Liberal led the final Green by just 81 votes. Labor's votes then flowed strongly to the Greens.
In Bass, the Liberals had 3.53 quotas, Labor 1.58 and the Greens 0.56. At the three-way crunch point, the Liberals were just behind the Greens and Labor and were excluded. On Liberal preferences, Labor comfortably defeated the Greens by 801 votes or 0.07 quotas, thus gaining a seat from the Greens.
Final statewide vote shares were 50.3% Liberal (down 1.0% since 2014), 32.6% Labor (up 5.3%), 10.3% Greens (down 3.5%) and 3.2% Jacqui Lambie Network. This was the Greens' lowest Tasmanian vote since 1998, when they received 10.2% – their vote has more than halved since they won 21.6% in 2010.
I believe the Greens' poor result was mostly because Labor has a young left-wing leader in Rebecca White, and Labor's anti-pokies policy attracted Greens' voters.
The upper house was not up for election. The 15 members of the Tasmanian upper house are elected for rotating six-year terms in single-member electorates. Every May, two or three electorates are up. Labor has four upper house seats, and there are four left-wing independents, so the left currently controls the upper house.
---


Read more:
Dems easily win Virginia and New Jersey governors. Left gains control of Tas upper house


---
New South Wales March ReachTEL: 52-48 to Coalition
A New South Wales ReachTEL poll for The Sydney Morning Herald, conducted March 15 from a sample of 1,521, gave the Coalition a 52-48 lead, unchanged since October 2017. Excluding 6.2% undecided, primary votes were 44.7% Coalition (up 3.8%), 34.6% Labor (up 0.9%), 10.0% Greens (up 0.1%) and 5.4% One Nation (down 3.5%).

Incumbent Gladys Berejiklian led Opposition Leader Luke Foley 52.3-47.7 as better Premier in ReachTEL's forced choice question. By 59-26, voters opposed the government spending $2.5 billion on constructing new stadiums.
Adrian Beaumont, Honorary Associate, School of Mathematics and Statistics, University of Melbourne
This article was originally published on The Conversation. Read the original article.