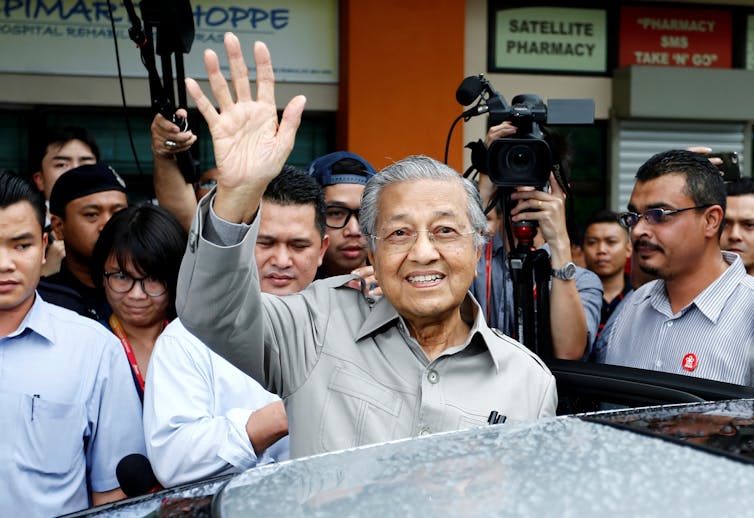 Amrita Malhi, Australian National University
On January 8, former Malaysian prime minister Mahathir Mohamad announced his intention to contest the next general election, due sometime before August this year.
In an unprecedented political turnaround, Mahathir is now leader of the alliance of opposition parties bidding to oust the incumbent, Najib Razak. Mahathir handpicked Najib in 2009 to head his former party, the United Malays National Organisation (UMNO), and the coalition it has led since the 1970s, Barisan Nasional.
To add further intrigue, Mahathir now appears to be on a unity ticket with his old enemy, Anwar Ibrahim, for control of the country.
Mahathir, who first rose through UMNO ranks to become prime minister in 1981, is 92. His decision to stand again has raised questions about the state of politics in this young nation, whose median age is 28. Malaysian and international media outlets alike have carried comments along the lines that nominating somebody so old is a "laughable" choice.
Yet the key to this decision is not in the nation's age profile but the calculus of building electoral coalitions in a diverse nation bearing the scars of political battles fought since 1998.
---
Read more: People power challenges Malaysia's PM, but change from within most likely
---
Look also to Mahathir's singular skillset in building such coalitions over decades, through a combination of Malay nationalism, a pro-capitalist Islamist ethic and selective minority representation. During his career, Mahathir mastered the use of such political themes, alongside tactics such as granting favours and opportunities to allies while exerting civil and judicial pressure on opponents.
Mahathir led Malaysia for 22 years. In that time, he transformed the nation for better and for worse, depending on which constituency you consult. He resigned in 2003, after famously sacking his deputy and finance minister, Anwar Ibrahim, in 1998.
Anwar, who became his most formidable opponent, has since led the opposition alliance that Mahathir now heads, with Anwar's wife, Wan Azizah, as his deputy.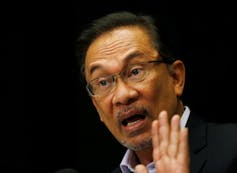 Anwar himself has nearly completed a second prison term – the first instigated by Mahathir, the second by Najib – and is only due for release in June, at which point he is likely to seek a royal pardon to readmit himself to political life. Anwar's convictions have resulted from charges of corruption and sodomy – a criminal offence in Malaysia – both of which he has consistently denied.
Unless Anwar wins a pardon from the king, he will not be able to participate in politics for an additional five years after his release. Nonetheless, the plan is to find a way for Anwar to take over – presumably from Mahathir, or potentially from Wan Azizah.
In 2013, at the last election, Anwar led the opposition parties to win the national popular vote. But he did not win sufficient seats to form government, which Barisan retained.
Anwar has perfected a form of political code-switching, which allows him to argue for democratic reforms using both Islamic and secular liberal principles. This is a skill many voters, Muslim and non-Muslim, consider impressive.
Nevertheless, he failed to win important rural seats – whose largely Malay Muslim voters hold disproportionate power in this largely urban nation. Many voters in these seats view their economic and political interests as tied up with UMNO and Barisan, along with their development schemes, subsidies and loans that have propelled many Malay Muslims into better jobs in a modernising economy.
Appointing Mahathir as opposition figurehead is a bid to win these seats: the one missing ingredient in the opposition parties' 2013 bid for power. It is for this reason that the "nonagenarian", as Najib calls him, is suddenly running again. He is a critical component of an opposition pitch to these voters, sending the message that the opposition will not turn their lives or the polity upside down, as many fear it will.
That these fears exist is not a mystery. They circulate in comments made in public forums both by government ministers and by other figures linked to UMNO and its affiliated NGOs. They include the assertion that the opposition is un-Islamic because it includes parties like the Democratic Action Party, whose membership is largely ethnic Chinese.
Allowing this coalition to come to power, the argument goes, would allow it to dismantle the web of state protections that protects Malay Muslims not only from poverty but also from the country's other "races." It would also lead to an ethnic Chinese bid for power that would displace Malay Muslims in their own nation – from which they only ejected their last group of colonisers at independence in 1957.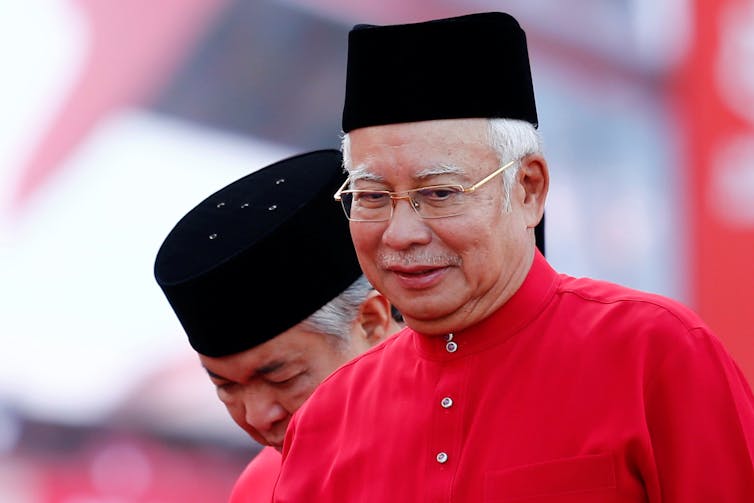 Installing Mahathir as a figurehead is a signal to these voters – and their political patrons – that there will be no dismantling of Malay Muslim privileges. Nor will there be a public reckoning for members and officials of UMNO if their party falls, as Mahathir signalled earlier this week.
Instead, the logic goes, voting for the opposition will only rewind and reset the nation at the point it had reached 20 years ago – when Mahathir and Anwar were last leading the nation together, as the leaders of the very same Barisan that these voters continue to support.
There are two important additional constituencies that Mahathir aims to reassure, even while they express concern over a potential second era of "Mahathirism" and seek to delimit how much power he might wield in a new government.
These are non-Muslim Chinese, Indian and "other" minorities, along with so-called "liberal" Malay Muslims – a term generally given to urban professionals comfortable with interracial and mixed-gender politics. Many of these voters are already comfortable with the opposition, and may fear not only Barisan, but also the government's new apparent allies, the Pan-Malaysian Islamic Party (PAS).
---
Read more: Malaysia in turmoil as PM focuses on survival
---
PAS has left the opposition alliance and is now working in co-ordination with Barisan. It commands a large following of supporters, although it has lost some leaders and supporters to a new party that subsequently split from it, Amanah, which has remained in the opposition.
If the opposition fails, and Barisan wins decisively, minorities and liberals will not like the price PAS will likely extract from Barisan in return for its support – which many fear includes hudud laws and a wholesale Islamisation of the state and public life. But such a transformation would be risky for Malaysia, and destroy its cultivated reputation as a safe and diverse nation in which "moderate" Islam prevails.
Through the 1990s, Mahathir presented himself to these voters as a bulwark against PAS, which he has characterised as similar to the Taliban and opposed to minority rights. A strong argument along these lines might disrupt Barisan-PAS co-ordination, and potentially deliver Barisan a weak win, whose legitimacy the opposition parties will likely challenge.
Najib has instigated a new battery of national security laws that he might consider using if political disaffection continues after a weak result. But, again, using them will be risky, as Malaysia also projects itself as a democracy.
As for the likelihood of an outright opposition win – this would take a surge of energy that seems not to be evident in supporters demoralised by the seeming impossibility of dislodging Barisan and especially UMNO. Even the multi-billion-dollar scandal that broke in 2015, and which remains the subject of a Department of Justice investigation in the US, seems not to have weakened its position.

Nonetheless, the campaign has begun in all but formal terms.
Amrita Malhi, Visiting Fellow, Coral Bell School of Asia Pacific Affairs, Australian National University
This article was originally published on The Conversation. Read the original article.