Axel Bruns, Queensland University of Technology
There's still plenty of time to go in the current Queensland state election campaign, but early signs from the social media trail offer some encouragement for Labor premier Annastacia Palaszczuk. She is receiving considerably more retweets than Liberal Opposition Leader Tim Nicholls, and chatter about the controversial Adani mine project has declined in recent days.
Twitter and Facebook are now a standard part of the campaigning toolkit for all major parties. Previous state and federal campaigns suggest that voters who've already seen a party's messages in their social media feeds may be a little more open to a chat when the local candidate comes doorknocking. (Labor's internal review of its 2013 campaign stresses the combination of online and in-person campaigning, for example.)
On Twitter, we've identified 60 Labor and 48 Liberal National Party candidates, as well as central party and campaign accounts. The Greens are represented by 34 accounts, while One Nation and Katter's Australian Party each have only a handful of tweeting candidates. Combined, over the first two weeks of the campaign, they've sent some 3,300 tweets in total, and received some 54,000 @mentions and retweets.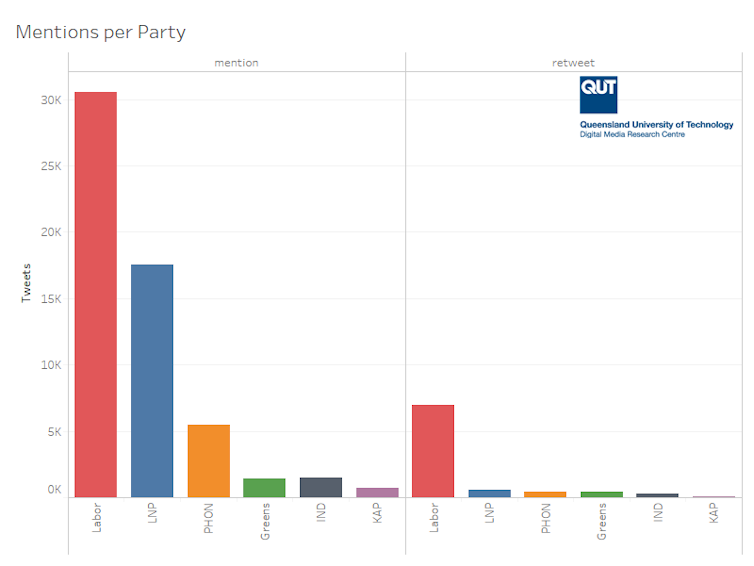 These are far from evenly distributed, however. @mentions of parties and politicians tend to favour the incumbent, and this is not surprising: more of the debate on social media and elsewhere will be about the track record of the current government, rather than about the promises of the opposition.
At 30,000 tweets, Labor accounts have received nearly double the @mentions of the LNP (17,000) to date, and this is in line with patterns in previous state and federal elections.
It's the retweets that tell a more remarkable story. The nearly 7,000 retweets for Labor candidates' tweets amount to more than twelve times the 570 retweets received by the LNP. During an election campaign, retweets usually do indicate some level of endorsement.
The pattern in this election is considerably different from recent elections. In 2016, for example, the incumbent federal Coalition received far fewer retweets than the Labor opposition. In the 2015 Queensland election, Campbell Newman's incumbent Liberal National Party government also struggled to attract retweets for its messages.
These patterns do not point to a significant mood for change or substantial willingness amongst Twitter users to promote the LNP's campaign messages. Conservative commentators may want to chalk this up to a purported left-wing bias in the Australian Twittersphere – but that claim is not borne out by our analysis, showing Twitter contains sizeable communities of both left-wing and right-wing supporters.
Adani and One Nation generate heat for the major parties
Labor also seems to have weathered the early onslaught of critical coverage well.
The first week of the campaign saw a substantial volume of debate about the controversial Adani mine project, which divides opinion between the southeastern population centres around Brisbane (where concerns about environmental impacts are high) and the regional centres near the mine (which anticipate greater job prospects from the mine).
During week one some 1,500 tweets per day, both by and to candidates, contained the word "Adani". Hashtags related to the controversy (#adani, #stopadani, #coralnotcoal, and others) were the most prominent topical hashtags in our overall dataset, in addition to generic tags like #qldvotes, #qldpol, and #auspol.
The story is further complicated by the fact that, in his role at PricewaterhouseCoopers, Premier Palaszczuk's partner was involved in Adani's application for a A$1 billion loan. Palaszczuk announced at the end of the first week of campaigning that she would veto that loan if the application were successful.
Judging by our Twitter data, this veto threat appears to have neutralised the Adani debate to some extent. "Adani" tweets by and to candidates declined from 1,500 to less than 600 in week two. The overall volume of tweets by and to these accounts has also dropped from over 5,000 to some 3,700 per day in week two.
This shift in position may indicate that Labor believes that supporting Adani will lose more votes in the southeast than it will gain further north. Our social media patterns seem to bear out this view.
Meanwhile, with Pauline Hanson's much-publicised arrival on the campaign trail the second week has seen more discussion about the role that One Nation may play in the next parliament. In particular, the announcement on the evening of Friday 10 November that the LNP will preference One Nation over Labor in more than half the seats in Queensland has already generated substantial debate. Some 20% of tweets by and to candidates on the following Saturday included keywords related to One Nation and/or preferencing.
While the LNP announcement – after the evening news on a Friday – was probably timed to minimise media scrutiny of its decision, it remains to be seen whether this debate will carry over into the third week of the campaign. Labor will no doubt seek to exploit this preference arrangement to attract traditional conservative voters who remain critical of One Nation.

And finally, if you're still uncertain about which hashtag to use to join the debate: in tweets by and to candidate accounts, plain old #qldvotes leads #qldvotes2017 by more than ten to one so far. It's a landslide.
Axel Bruns, Professor, Creative Industries, Queensland University of Technology
This article was originally published on The Conversation. Read the original article.