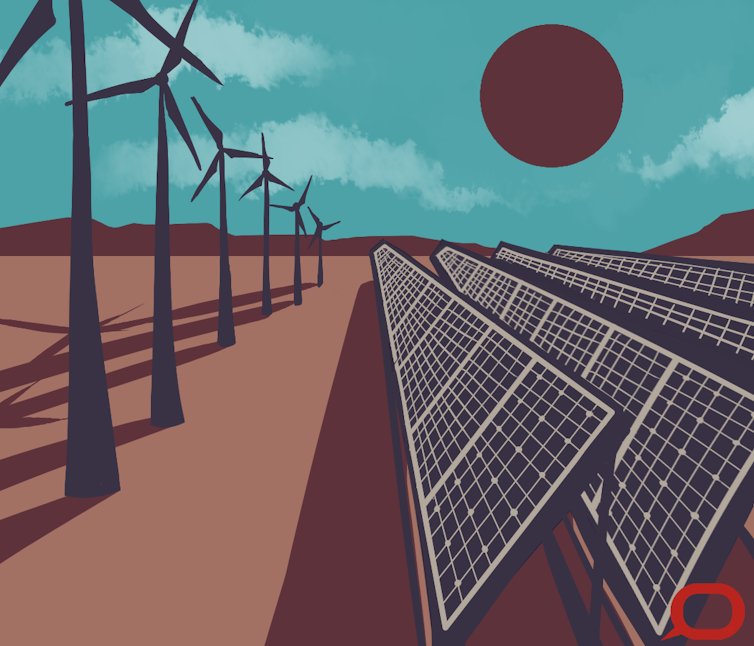 As we approach the end of the year, it's useful to look back and forward. Now is an auspicious time, as two major energy-related reports have been released this week: the federal government's review of their climate change policies, and a discussion paper from the Australian Energy Market Operator (AEMO) on future energy paths.
The difference between the two is striking. The AEMO paper is practical, direct and realistic. On the other hand, the climate policy review relies essentially on Australia buying lots of international carbon permits to meet our Paris target (and, implicitly, on state governments taking up the challenge their Canberra colleagues have largely abanondoned).
It's amusing to read a document that plays with numbers in such creative ways. But it is a fairy story, and it's no way to drive national climate policy.
---
Read more: The federal Climate Policy Review: a recipe for business as usual
---
I almost feel as though I could just change the dates and reprint my article reviewing prospects for energy in 2017:
2017 is the year when many long-festering energy policy problems must be addressed. Our outdated energy market model is falling apart. The gas industry is lining its pockets at the expense of Australian industry. Climate policy is urgent, but controversial among key decision-makers. Our fossil fuel exports are under threat from global forces.
But things have in fact shifted a long way – the revolution is accelerating and unstoppable. The federal government is almost irrelevant; the public statements and policies it presents are simply aimed at getting "something" through the Coalition party room, or trying to throw blame on others. It's very sad.
The real games are being played out within state governments; in battles between energy policy agencies and regulators; by emerging industry players who do not even have formal roles in energy legisation; and by business and the community as they defend themselves from the failures around them by implementing "behind the meter" solutions and working together.
The real heavy lifters
Medals of Valour should be awarded to Chief Scientist Alan Finkel, AEMO chief executive Audrey Zibelman, and South Australian Premier Jay Weatherill.
The government's response to this year's Finkel Review showed that no amount of compromise would allow a sensible energy and climate policy to pass through the minefield of the Coalition party room. Prime Minister Malcolm Turnbull and Environment and Energy Minister Josh Frydenberg, both of whom know what they need to do, simply have too little political capital within that place to drive realistic energy policy.
But the Finkel Review also successfully recommended many changes that will help to fix the physical operation of the grid. Innovation and the laws of physics have finally begun to triumph over market politics and ideology.
---
Read more: The Finkel Review at a glance
---
AEMO worked out a way to get around the glacial and obstructive tactics of the Australian Energy Market Commission on demand-side action by setting up a "pilot project" to drive demand response. It has been clear for decades that this is a very cost-effective tool. Zibelman has been a voice of practical reality and clear understanding of the future of energy, including the demand side, and AEMO's future energy paths reflects that.
Weatherill has weathered a storm of abuse over his state's innovative energy strategy. His government has shown how a diversified approach can transform an energy system in little more than a year. But he needs to put more effort into long term energy efficiency and energy productivity improvement measures integrated with renewables and storage, to reduce pressure on electricity systems over time. For example, home cooling comprises a third of South Australia's peak electricity demand, but could be slashed by efficient buildings and cooling equipment.
What lies ahead
Looking forward, the coming year will be shaped by some key issues, some of which are already playing out at a frenetic pace. Consider a small sample of many recent events:
As mentioned, AEMO has released a discussion paper framing a very different electricity future, and including a low-carbon scenario.

The new battery in South Australia has delivered remarkable outcomes, helping to stabilise the grid in ways that few imagined.
---
Read more: Yes, SA's battery is a massive battery, but it can do much more besides
---
The Victorian Essential Services Commission has proposed a new "time of day" feed-in price for rooftop solar that reaches 29 cents per kilowatt-hour in afternoons and evenings. If approved, this will be a game-changer, as adding battery storage to rooftop solar will become far more attractive.

The Energy Networks Association, not the gas industry, has released a zero emission gas strategy at last.

The annual report on the National Energy Productivity Plan (remember that?) shows we're falling behind even the government's weak target: not surprising given the miniscule resources allocated.
Meanwhile the federal government has released energy modelling to underpin ongoing negotiation on the National Energy Guarantee (NEG) that is simply irrelevant and embarrassing. The Energy Security Board's involvement in this has undermined perceptions of its independence, especially when it is contrasted with the vision AEMO is discussing in its paper.
While the states have agreed to continue discussion on the NEG in April, there are some major hurdles. Primarily, states must be allowed to set and achieve their own energy targets: the federal energy minister has put the blame for problems on the states, and they now have to be seen by their voters to act.
Second, the design must ensure it does not give the dominant energy companies even more power to distort markets. Some members of the Energy Security Board seem to understand the challenges, and are optimistic they can be overcome. Time will tell.

As Turnbull has said, we live in exciting times.
Alan Pears, Senior Industry Fellow, RMIT University
This article was originally published on The Conversation. Read the original article.