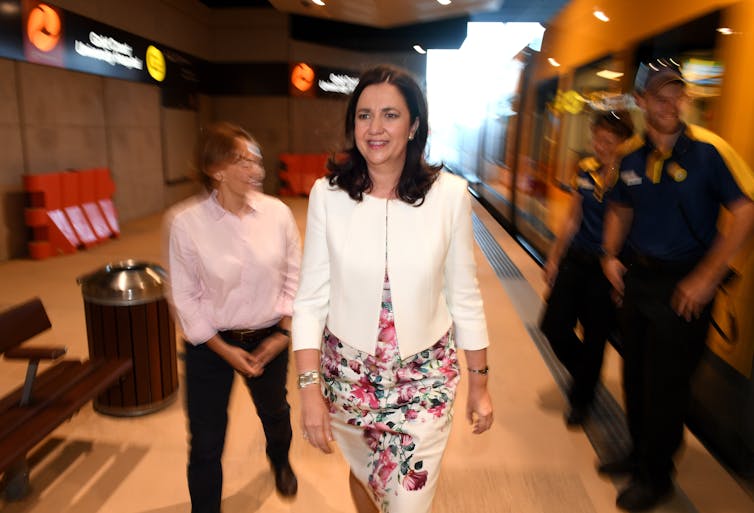 Adrian Beaumont, University of Melbourne
The Queensland election is today. Polls close at 6pm local time (7pm Melbourne time). The final Newspoll and Galaxy both give Labor at least 52% of the two party vote, and this is likely to be enough for a Labor majority government. While a ReachTEL on November 19 gave Labor a slender 51-49 lead, that was still Labor's best result in ReachTEL this year.
The table below shows the final three statewide polls for the Queensland election. The last Newspoll was taken in mid-October, the last Galaxy in early November, and there were two ReachTEL polls for different clients on 13 November; both had the LNP ahead 52-48.

Primary votes in Galaxy were 37% Labor (up 2), 35% LNP (up 3), 12% One Nation (down 6) and 9% Greens (steady). The six-point drop in One Nation support is partly explained by One Nation only contesting 61 of the 93 seats. According to Peter Brent, the previous Galaxy asked for statewide One Nation support, but this Galaxy only asked in seats One Nation are contesting.
As One Nation will receive no votes in the 32 seats it is not contesting, its statewide support is likely to be less than the mid to high teens it had in recent statewide polls. Galaxy is attempting to match the results tonight.
Galaxy gave the LNP a 52-48 lead with One Nation at 20% of the primary vote in regional Queensland, a one point swing to the LNP since the 2015 election. However, Labor led by 54-46 in south-east Queensland, a two point swing to Labor. South-east Queensland has about two-thirds of the 93 seats.
In Newspoll, primary votes were 36% Labor (down 1), 34% LNP (steady), 13% One Nation (down 3) and 10% Greens (up 2). Presumably, Newspoll only asked for One Nation support in the seats it is contesting. Labor led by 54-46 in south-east Queensland, while the LNP led by 51-49 in regional Queensland, with One Nation at 22% of the primary vote.
40% were satisfied with Premier Annastacia Palaszczuk (down 2), and 47% were dissatisfied (up 2), for a net approval of -7. Opposition leader Tim Nicholls' ratings plunged from a net -11 in October to -27 now, with 54% dissatisfied.
Labor has attacked Nicholls on two grounds. The first attack line is the LNP's preference recommendations for One Nation, and Nicholls' failure to rule out a LNP/One Nation government. The second attack is over Nicholls' role as Treasurer in the Newman government. While Palaszczuk's ratings are not great, these attacks could be decisive.
The 19 November ReachTEL poll for Sky News gave Labor a 51-49 lead, a 3 point gain for Labor since two polls for different clients conducted 13 November. ReachTEL has been the most LNP-favouring poll in Queensland, and this was Labor's first lead in a ReachTEL poll this year. Primary votes were 34% Labor, 30% LNP, 17% One Nation and 10% Greens.
ReachTEL has used respondent allocated preferences, while Newspoll and Galaxy have used preference models based on previous elections. Previously, there was a large difference between the two methods, with ReachTEL much more favourable to the LNP. However, ReachTEL's last poll removed most of that difference.

Sky News also released three ReachTEL seat polls on 20 November, and two of these seats were previously polled by Newspoll. In Thuringowa, ReachTEL had a 50-50 tie between Labor and One Nation, while Newspoll gave One Nation a 54-46 lead. In Whitsunday, ReachTEL gave Labor a 50.5-49.5 lead over the LNP (51-49 to Labor in Newspoll). In Ferny Grove, ReachTEL gave Labor a 54-46 lead.
Adrian Beaumont, Honorary Associate, School of Mathematics and Statistics, University of Melbourne
This article was originally published on The Conversation. Read the original article.