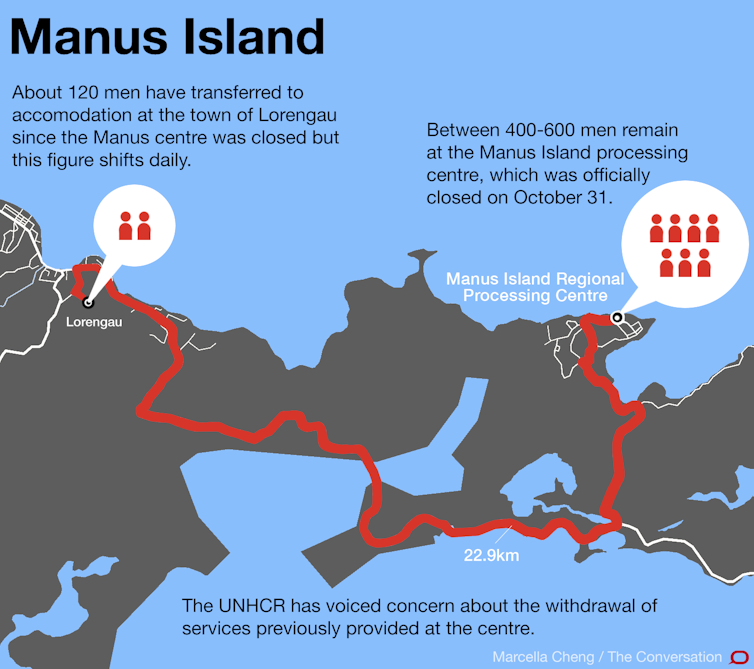 Mary Anne Kenny, Murdoch University
Tensions at the Manus Island Regional Processing Centre remain high after the centre was officially closed on October 31 this year and handed back to the Papua New Guinea government.
Reports are that there are still around 420 people in the now-defunct regional processing centre who are refusing to move to recently built transit centres in Lorengau. However, these numbers shift on a daily basis as men move in and out of the centre.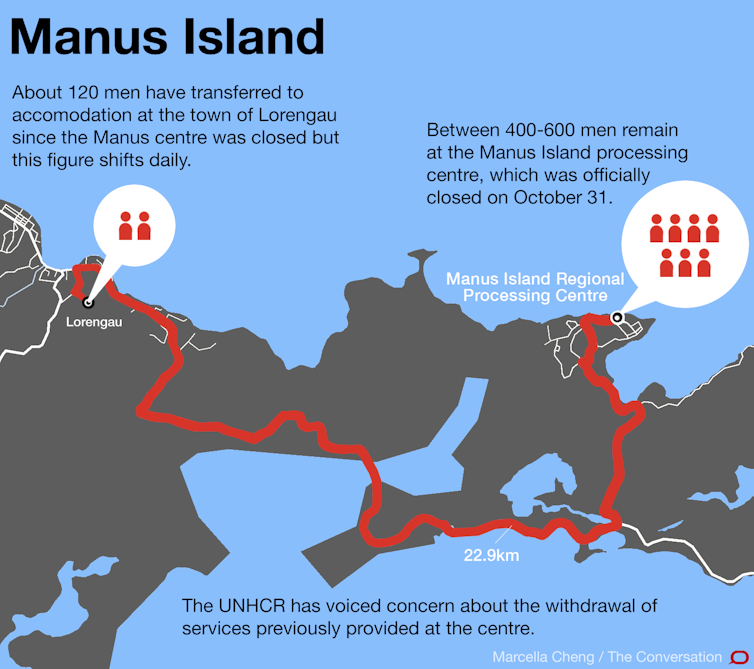 The United Nations High Commissioner for Refugees (UNHCR) recently said that:
The abrupt ending of services and the closure of the regional processing centre needs to involve the people who have been in this regional processing centre for years in a very vulnerable state… It is really high time to bring an end to this unconscionable human suffering.
How did we get here?
The offshore processing of asylum seekers who came to Australia by boat recommenced in 2012. At that time, single adult men were sent to Nauru and families with children and some adult men were sent to Manus Island in PNG.
However, since July 2013 only adult men were transferred to Manus and all the asylum seekers there today are male. (And families with children, single women, couples and some single men are on Nauru).
Since July 2013 a total of 1,523 people have been transferred to Manus from Australia.
When the Manus processing centre closed on October 31, there were 690 people in the facility.
---
https://datawrapper.dwcdn.net/Jd2aV/4/
The number of asylum seekers on Manus Island has slowly reduced over the years as people have either accepted packages to return to their country of origin, been deported from PNG, been resettled in the US or temporarily settled in PNG. Six others have died.

https://datawrapper.dwcdn.net/Xxhvb/3/
Why was the Manus Regional Processing Centre closed?
On April 27 last year, the PNG Supreme Court ruled that the detention of the asylum seekers on Manus Island was unconstitutional.
After the decision was made the PNG government said that those at the centre were free to come and go from the processing centre.
It was not until April 2017 that the Australian government and the PNG government announced publicly that the processing centre would close on October 31.
All of the service providers (including health providers) and Australian government officials left the centre on October 31 this year and the centre was supposed to be reoccupied by the PNG Defence Force from November 1.
What are the options for those left on Manus?
According to the Australian government, those who have been found by PNG authorities to be refugees have the following options:
resettle in PNG;

wait in PNG for possible resettlement in the US;

transfer to Nauru to wait for possible resettlement in the US; or

return to the country from which they had fled persecution.
Resettlement of refugees in PNG has been slow and problematic with few people opting to leave the processing centre to live elsewhere in PNG.
The UNHCR has raised concern about just how "voluntarily" refugees can return to the country from which they fled.
Since the US resettlement deal was announced about a year ago, 516 refugees from Manus have been referred to the US for resettlement.
Reviews of their cases and interviews are underway. Only 25 have been resettled so far. However, it is up to the US as to how many they will take and it is unclear when the next refugees will be transferred to the US.
Currently, it is clear the majority want to wait to see if they will be offered resettlement in the US. Refugees remaining in the processing centre have been offered alternative accommodation at East Lorengau Refugee Transit Centre (for up to 400 people) and West Lorengau House (for up to 300 people). Whether these facilities can in fact house this many men is as yet unclear.
The UNHCR is urging against the forced movement of refugees and asylum seekers to these centres from the processing centre.
---
https://datawrapper.dwcdn.net/rAI1r/4/
The men who have been found by PNG authorities not to be refugees have been offered supported accommodation in Lorengau (Hillside House).

However the PNG government expects them to eventually make arrangements to return home voluntarily or they will be deported.
Mary Anne Kenny, Associate Professor, School of Law, Murdoch University
This article was originally published on The Conversation. Read the original article.